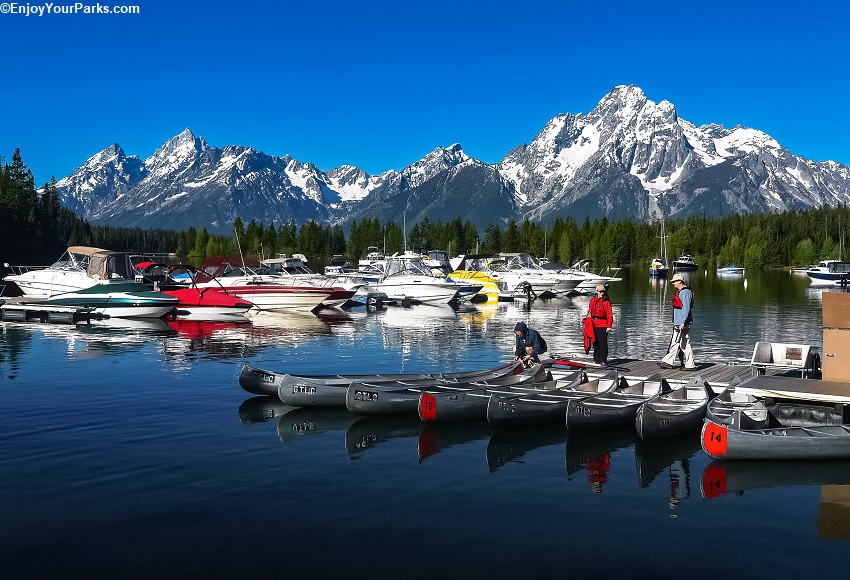 Colter Bay Marina, Grand Teton National Park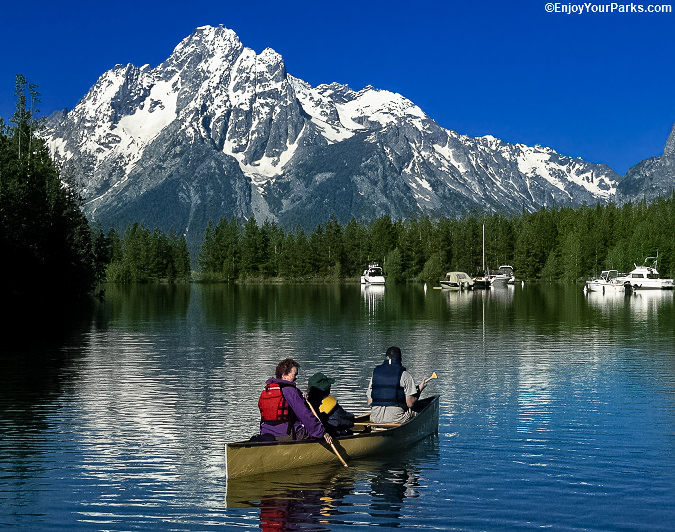 Colter Bay in Grand Teton National Park is one of the most picturesque bays in the Rocky Mountains, and it's always a treat to visit this wondrous place.  Whether you like canoeing, boating, kayaking, swimming, fishing, windsurfing, waterskiing, horseback riding, or just sitting and relaxing while you watch the boats come in and out of the bay, Colter Bay is definitely a "must see" on your Grand Teton National Park Vacation.
Colter Bay is home to many accommodations, including a marina, grocery store, gift store, visitor center, C-store, restaurant, showers and laundry, RV park, campground, tent rentals, cabin rentals, horseback riding, boat tours, fishing trips, canoe rentals, boat rentals, kayak rentals, and wonderful day hikes.
The Colter Bay Marina in Grand Teton National Park is where you can rent canoes, boats and kayaks, and it's an absolute blast to get out on this water.  Jackson Lake is enormous, but this perfectly "designed" natural bay really tames it.  If you decide to leave the bay and get out on the open water, we strongly recommend that you stay reasonably close to shore in the event that the wind comes up unexpectedly.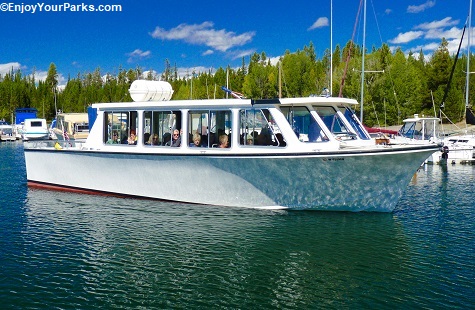 If you'd like someone else to do the navigating, there is a fantastic Jackson Lake Boat Tour that you and your family can really enjoy.
The large tour boat named "Rendezvous" is driven by an experienced boat captain and tour guide, and he/she will give you a very memorable tour of the famous Jackson Lake.
If you'd like to take a crack at catching some of Jackson Lake's fabled lake trout and cutthroat trout, you can either rent a boat out of Colter Bay and fish on your own, or you can hire a Colter Bay fishing guide who captains his/her own professional fishing boat.  It's whatever you're most comfortable with.  We've seen some amazing "lunkers" come out of Jackson Lake in Grand Teton National Park!
There is a wonderful horse corral with well trained horses and a professional staff that are happy to take you on a horseback riding adventure!  This popular horseback riding opportunity is located near the cabin rentals and tent rentals in the Colter Bay Village complex.
Located right off the main highway (highway 89) in Grand Teton National Park, it's not only a bay and marina, but it's also a village.  There is a ranger station, a great grocery store, an excellent gift shop, showers and laundry, picnic area, gas station, convenience store, restaurant, visitor center, cabin rentals, tent rentals, RV park and campground!

There are several very nice short hiking trails that take you around the Colter Bay Area in Grand Teton National Park.  If you'd like to get a great view of the lake from the shores, we highly recommend that you take some of these trails.  Our favorite trail in the area is the scenic and popular Hermitage Point Trail that starts right next to the boat ramp at the Colter Bay Marina.  It's a very pleasant hike with virtually no elevation gain, and the scenery is spectacular.
You will not only see the incredible view from Hermitage Point, but along the way you will enjoy Heron Pond, Jackson Lake Overlook and Swan Lake.
For details on the Hermitage Point Trail, click here.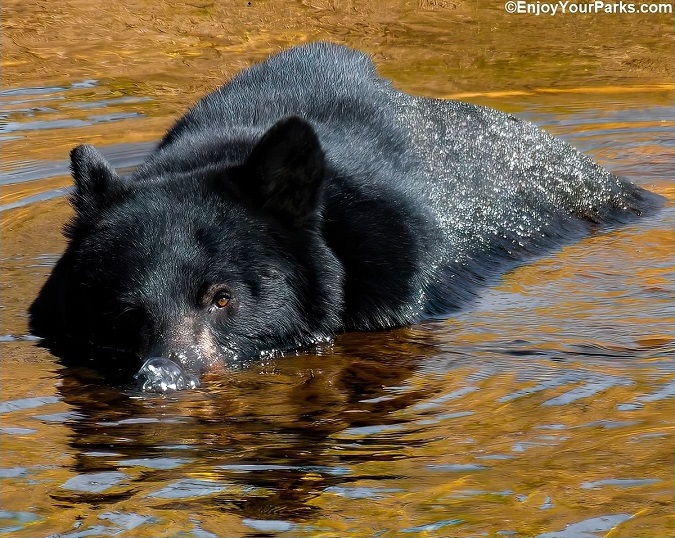 River Otters, Grand Teton National Park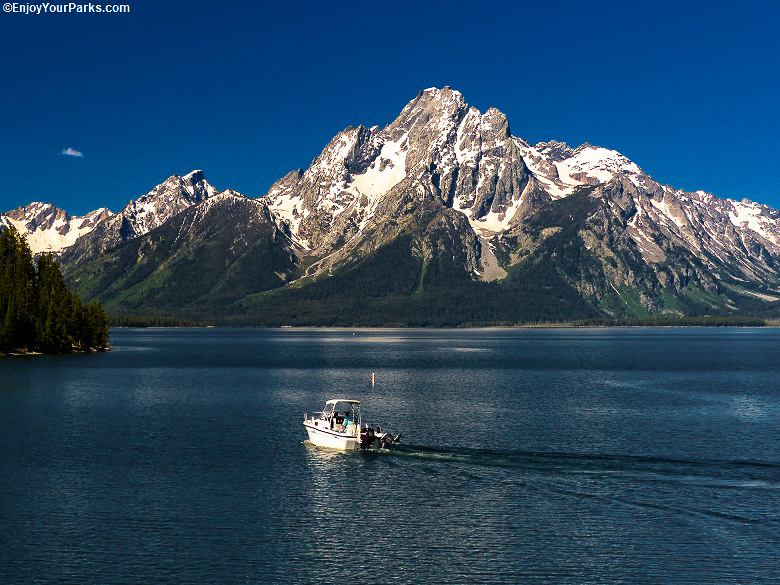 Colter Bay with Mount Moran, Grand Teton National Park