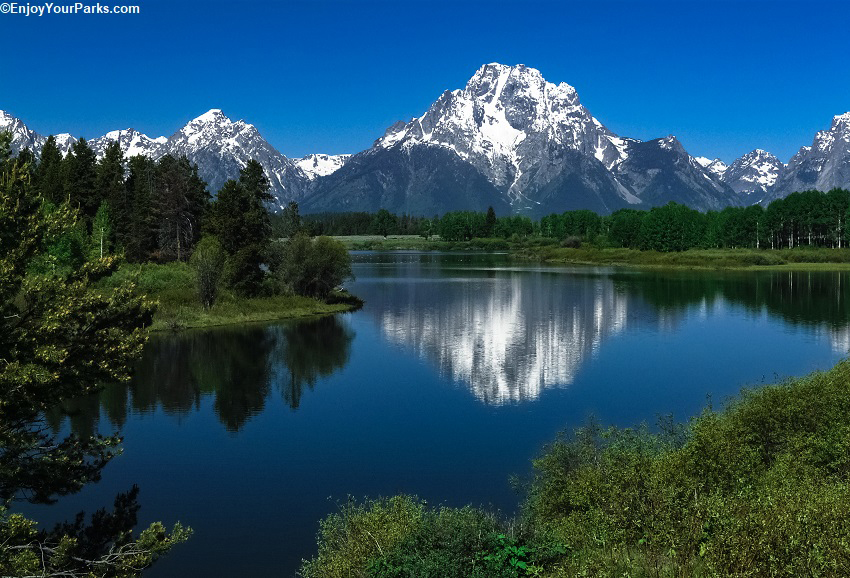 Oxbow Bend, Grand Teton National Park.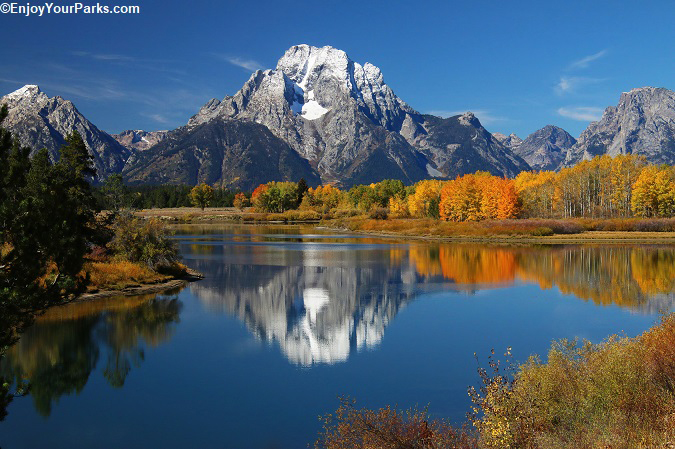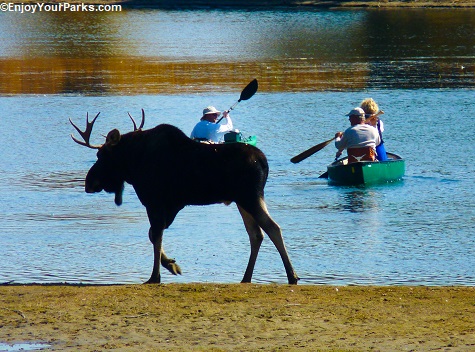 Oxbow Bend in Grand Teton National  Park is without a doubt the most photographed place in the entire park.  The image of the Snake River with Mount Moran's reflection is iconic and is probably the most recognized image of Grand Teton National Park throughout the world.  To give you an idea of just how popular this image is, it's comparable to Old Faithful Geyser in Yellowstone Park or Wild Goose Island on St. Mary Lake in Glacier National Park.  This classic image has been photographed millions of times, and you can bet that when you first lay your eyes on this spectacular view, you'll be snapping photos too!
Oxbow Bend in Grand Teton National Park is located just a little over a mile straight east of the Jackson Lake Junction on Highway 89.  You can't miss it- it's where the Snake River gets extremely wide and Mount Moran is seen reflecting in the calm water in all it's glory.  It's really a sight to behold.
Oxbow Bend in Grand Teton National Park is one of the best places in the park to see moose, river otters, black bears and the occasional grizzly bear.  There is also a wide variety of water fowl and birds of prey.  The best time of day to see these amazing animals is early in the morning, but we've seen moose swim across the widest part of the river at high noon.  You just never know what you'll find at Oxbow Bend in Grand Teton National Park.
And in the last several years, we have seen more and more Grizzly Bears in the Oxbow Bend area, so keep an eye out for them.  There's nothing more exciting during your Grand Teton National Park Vacation than seeing a grizzly bear!!!  It will make a lasting impression on you because they are among the most magnificent and magestic animals on this planet!
We photographed this grizzly just north of the bend.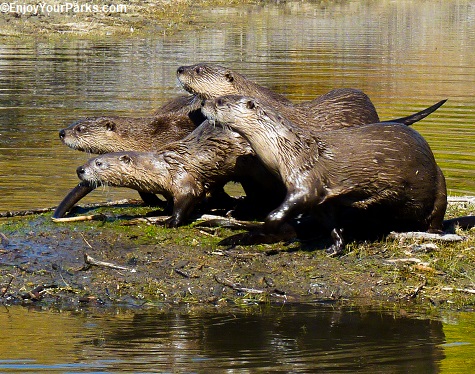 Keep a watchful eye out for River Otters!  Oxbow Bend in Grand Teton National Park  has a healthy population of otters which are always a treat to see.  They are incredibly comical as they play and wrestle in the water and on the shore.  We love to watch river otters and we're confident you will too.  They are absolutely hilarious and 100% adorable!
The autumn colors in Grand Teton National Park are world-famous, and especially at Oxbow Bend. Thousands of photographers congregate here during the last week of September to catch the incredible golds, yellows and reds as the aspens turn.  If you hit it just right, and if the conditions are good, these colors are unbelievable, and with the legendary backdrop of the Teton Range, it just doesn't get better than this.
As you are heading east from Jackson Lake Junction, just before you reach the actual Oxbox Bend, you'll see a gravel road off to your right.  This road takes you to the Snake River, and it's not only very scenic but this is a great place to see all kinds of wildlife.  This dead-end road is less than a mile long, and is very much worth your time.  (They call it Cattleman's Bridge Road because there used to be a bridge here where cattlemen would take their cattle over the Snake River to the other side to get them to market.)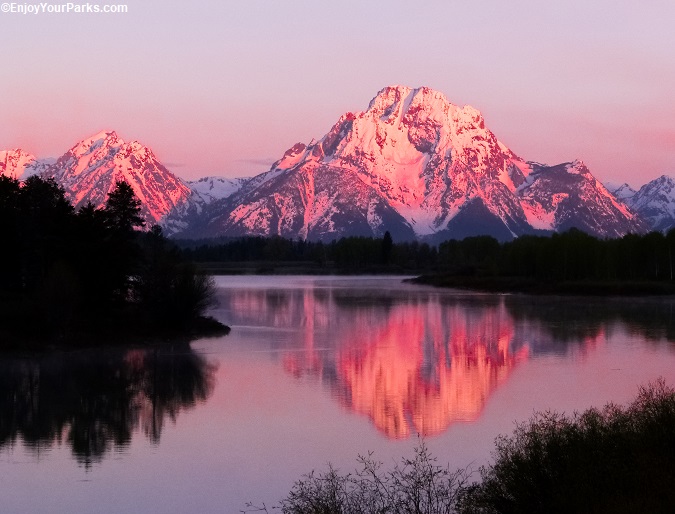 No two photos of Oxbow Bend in Grand Teton National Park ever look alike.  The light is always changing, as well as the seasons.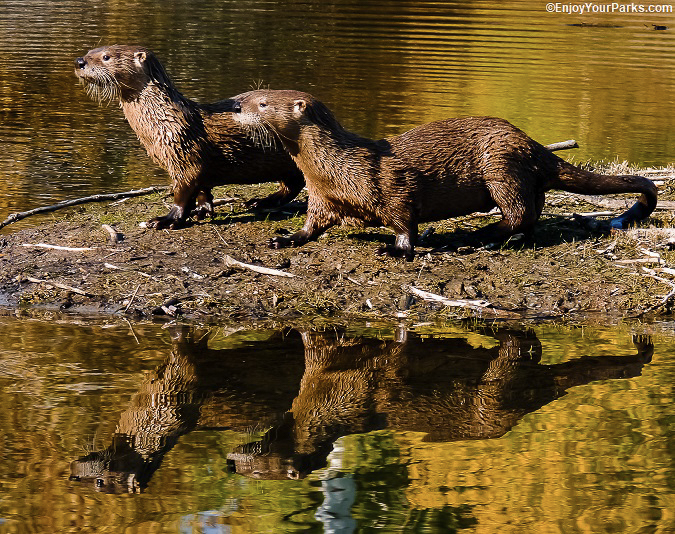 The lighting at Oxbow Bend in Grand Teton National Park during the first few moments of daybreak on a crisp fall morning is breathtaking.
Few animals in Grand Teton National Park are more majestic than a mature bull moose.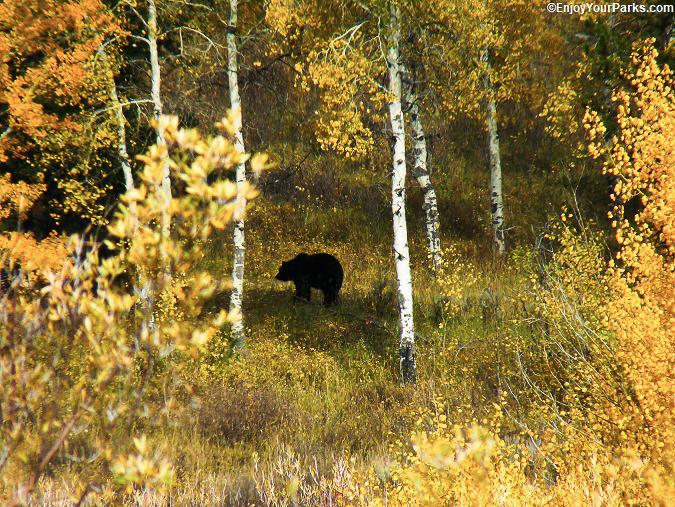 This grizzly bear crossed the road right at Oxbow Bend and worked his way up an aspen grove.  Seeing grizzly bears in Grand Teton National Park is always thrilling!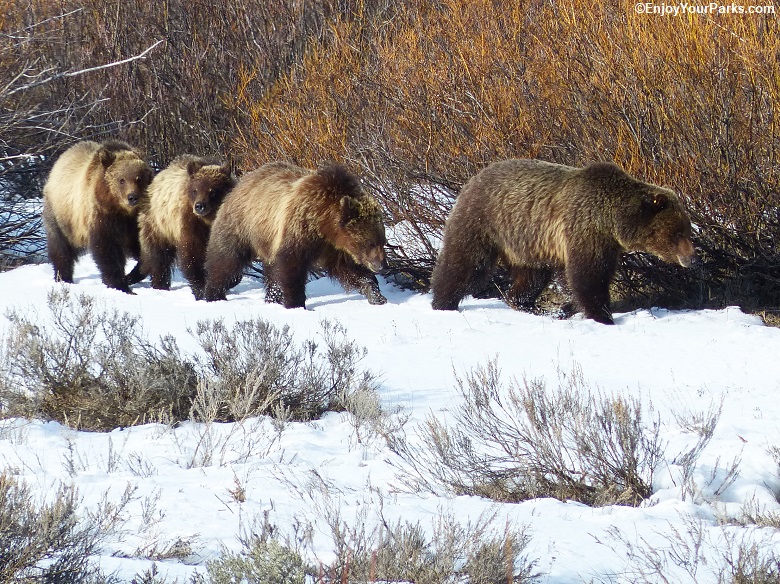 Grizzly cubs from the world famous grizzly known as "Grizzly 610" near Oxbow Bend in Grand Teton National Park.