St. Anthony Sand Dunes Recreation Area
St. Anthony Sand Dunes, Idaho
Share This Page On Social:
St. Anthony Sand Dunes Recreation Area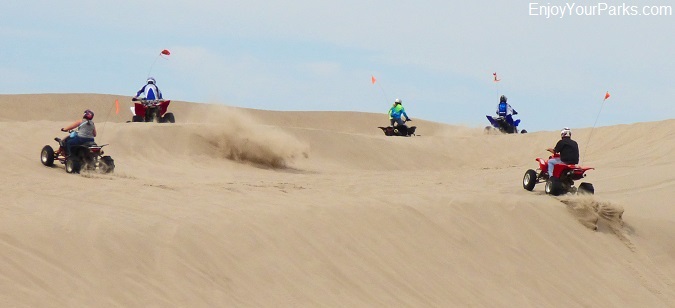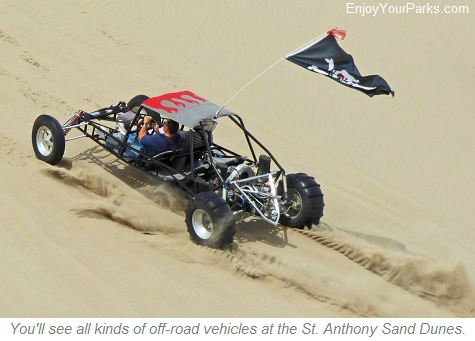 The St. Anthony Sand Dunes in Eastern Idaho is a wonderful place to not only enjoy the beauty of this 11,000 acre sand dune area, but to also have a absolute blast riding a dune buggy, motor cycle, four wheeler, horse, or whatever you can come up with!
The St. Anthony Sand Dunes rise up to 400 feet above the prairie floor, thus attracting riders from all parts of the United States and beyond.
The white quartz sand makes this truly one of the best playgrounds in the West for off-road vehicle enthusiasts, and once you see how much fun they're having, you'll want to have some fun too.
St. Anthony Sand Dunces Recreation Area is one of the most popular off-road areas in the country.
Located less than 5 miles northwest of St. Anthony Idaho, and only 50 miles northwest of Idaho Falls, the St. Anthony Sand Dunes are really a "must see" while enjoying your Idaho vacation... whether you're interested in enjoying their incredible beauty, or if you want to enjoy an adventurous off-road experience that you'll never forget.
Managed by the Bureau of Land Management, the St. Anthony Sand Dunes is also a wintering grounds for over 2,000 elk, 50+ moose and approximately 1,400 mule deer.  This area is also undergoing a wilderness study, which will determine if the area qualifies to be a wilderness area, which  will of course dramatically change the recreation opportunities that are presently available for off road enthusiasts.
Aside from the off-road recreation, the St. Anthony Sand Dunes are also very scenic and beautiful.
There are five places to access the southern perimeter of the  St. Anthony Sand Dunes, three of which provide full-hook-up campgrounds. There are two other access points that allow access to the St. Anthony Sand Dunes, but they do not provide full-service camping. Please see the list below, and the map below.
Full-Service Camping:
Egin Lakes Access
Desert Oasis Access (Idaho Dunes RV Park)
Sand Hills Resort
Other Access Areas:
Nine Mile Knoll Day Use Access
Red Road Area Access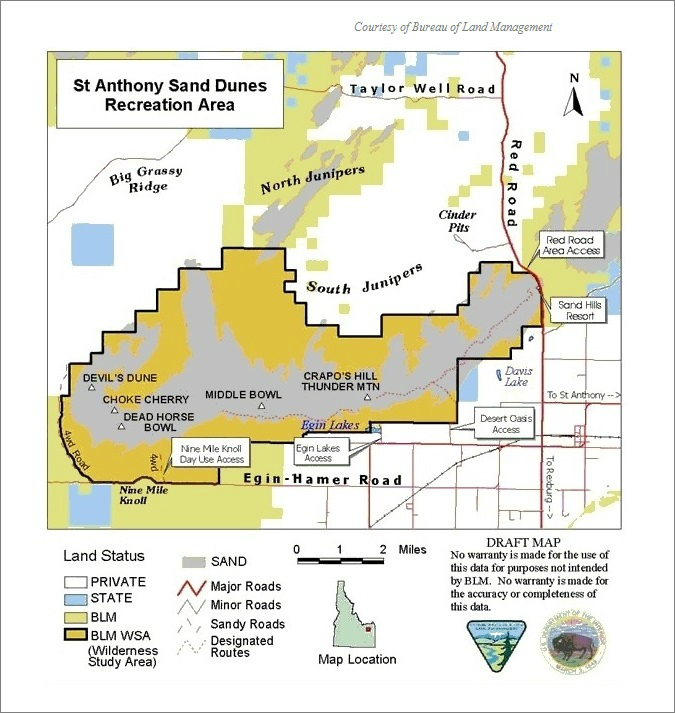 How Were the St. Anthony Sand Dunes Formed?
The sand at the St. Anthony Sand Dunes are made of tiny grains of quartz.  These grains of quartz are the result of many, many years of erosion of rock, where quartz is one of the hardest minerals that rocks are composed of. These grains of sand were formed through actions of waves on an ancient beach.  Then millions of years later, as this sand remained due to it's hardness, became dunes due to the prevailing winds in the St. Anthony area.
Sand dunes are basically a big mound of sand that formed by the wind, usually in the desert or a beach, but occasionally forms in non-typical areas such as the St. Anthony Sand Dunes Recreation Area. Dunes form when the wind blows grains of sand into sheltered areas behind obstacles.  As the grains of sand accumulate, the dunes will grow.  And every dune has what is known as the "windward" side, which is the side where the wind blows and pushes material up.  The other side of each dune is known as the "slipface", which is the side that does not get wind.
There are several shapes a sand dune can take.  A few of the named shapes are Crescentic Dunes, Linear Dunes, Star Dunes, Dome Dunes and Parabolic Dunes.  As you explore the St. Anthony Sand Dunes Recreation Area, see how many of these shapes of dunes you can find.
Here's an off-road enthusiast taking some air at St. Anthony Sand Dune Recreation Area.
Northbound
From U.S. Highway 20 Northbound, take the North Rexburg Exit.  Then turn left onto 1900 East (which is the Parker-Salem Highway and the Red Road.)  Drive 6.3 miles northward to the 2nd flashing light at the 4-way stop.  Take a left here and head just less than a mile to a split in the road.  Stay to the right and drive about 3 miles on 500 North.  When you see the Egin Lakes Access sign, turn right onto the access road (paved).
Southbound
From U.S. Highway 20 Southbound, take the Saint Anthony City Center Exit (Exit #346) and turn right onto Bridge Street. Keep going through the stop light to West 4th North, which will turn into 600 North once you exit the St Anthony city limits. Keep heading on 600 North for about 3 miles until you reach the intersection with Red Road.  Take  left to head to Egin Lakes Access, or take a right to access Sand Hills Resort or the Red Road Area Access Point.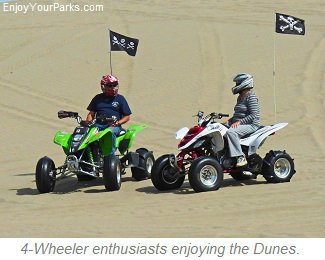 There are several business in and around the St. Anthony Area that provide off-road vehicle rentals, including dune buggies and motorcycles.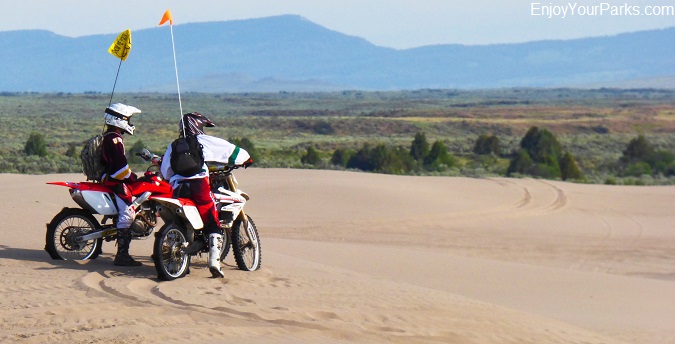 Motorcyclists pausing to take in the view at St. Anthony Sand Dunes Recreation Area.
The St. Anthony Sand Dunes are extremely scenic as well as fun.