Includes Yankee Jim Canyon
Includes Yankee Jim Canyon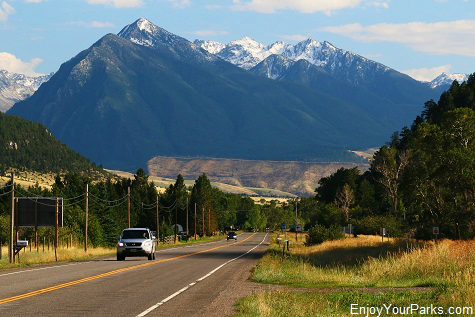 Paradise Valley is perfectly named....because it's truly Paradise!  Located along U.S. Highway 89 between Livingston Montana and the North Entrance of Yellowstone National Park at Gardiner Montana, Paradise Valley is where the Yellowstone River leaves Yellowstone Park and works its way northward.
Once the Yellowstone River reaches the Livingston area, it turns eastward and eventually connects with the Missouri River in eastern Montana.
Paradise Valley is one of the most scenic river valleys in Montana, with the Gallatin Mountain Range to the west, and the amazing Absaroka Mountain Range rising directly to the east.  And what is incredibly special about the Yellowstone River, besides being surrounded by gorgeous scenery, is that it is the longest undammed river in America, being over 670 miles long and being completely dam-free.
Paradise Valley is appropriately named.... because it's Paradise!
Original Entrance To Yellowstone Park
Paradise Valley was the original entrance to Yellowstone National Park before the other entrances were developed many years later.  Visitors would leave Livingston Montana, and journey along the Yellowstone River by horseback, wagon or stagecoach, and would eventually reach Yellowstone Park at Gardiner Montana, 54 miles later.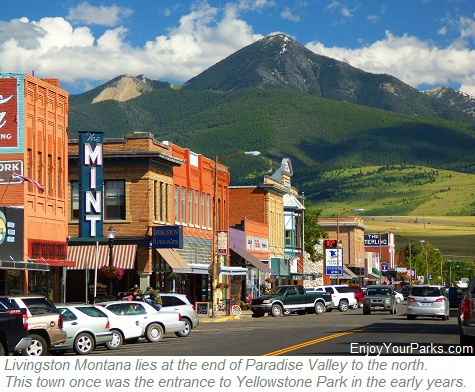 During the early years around the creation of Yellowstone Park in 1872, there were only about 1,000 visitors a year entering Yellowstone Park because of its remote and rugged location.
This original entrance is presently known as "The North Entrance", as there are now 5 entrances to the world's first national park.
In 1883, the Northern Pacific Railway actually built a branch railroad line from Livingston to Gardiner through Paradise Valley, which dramatically increased the traffic into Yellowstone Park.  The original horse trail is still visible along the west side of the Yellowstone River, especially as you enter the Yankee Jim Canyon area to the south, as well as the old railroad line before railroad discontinued its branch railway into Yellowstone Park.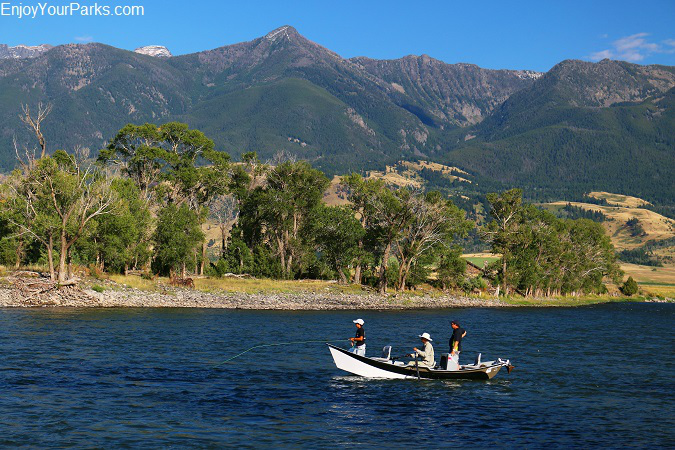 The blue ribbon stretch of the Yellowstone River that runs through Paradise Valley is regarded as one of the top fly fishing waters in America.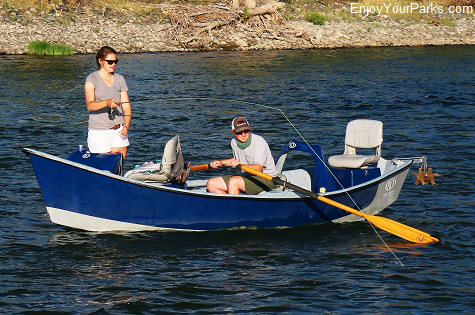 The section of the Yellowstone River that runs between Gardiner and Livingston Montana provides some of the best fly fishing in the west.
Regarded as a legendary "Blue Ribbon" trout stream, the Yellowstone River is a fly fisherman's (and woman's) dream come true.
The Yellowstone River is over 670 miles long, but the best fishing for fly fishermen is the stretch between Gardiner and Columbus, Montana (30 miles east of Livingston), and there is no question the Paradise Valley section is one of the most productive and popular sections of the river. Brown trout, rainbow trout and the coveted native Yellowstone Cutthroat Trout are all found in the Yellowstone River through Paradise Valley
Fly fishing from a drift boat is a very popular way of fishing the Yellowstone River in Paradise Valley.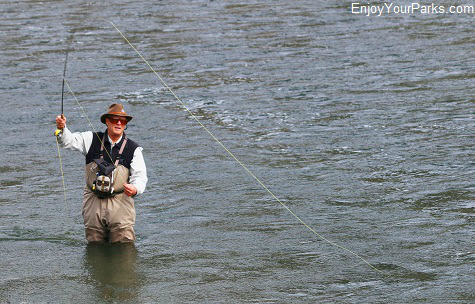 The method of choice for fishing this stretch of the Yellowstone River through Paradise Valley is by using what is known as a McKenzie River-Style Drift Boat.
These drift boats are extremely stable, and allows the fly fisherman to stand and cast his/her flies without rocking the boat.  As you drive through this gorgeous valley, you will see these drift boats on this river during the spring, summer and fall seasons.
Of course if you don't have a drift boat, there are plenty of places along the river where you can cast your fly from the shore or in shallow water using waders. There are many fishing access points that are open to the public up and down the Yellowstone River, and are clearly marked from the highway.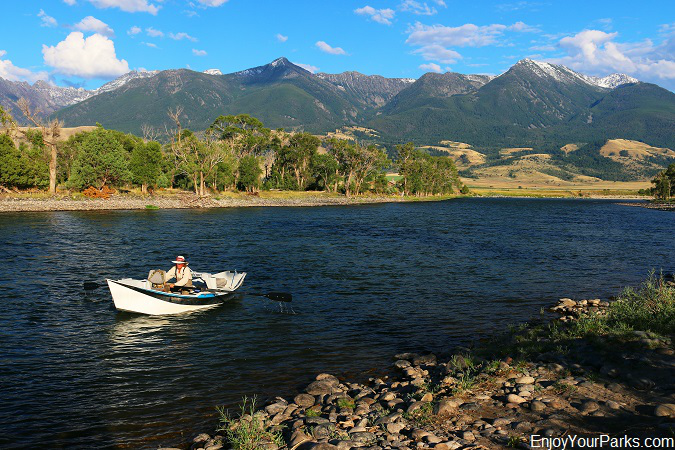 Drift boater on the Yellowstone River in Paradise Valley.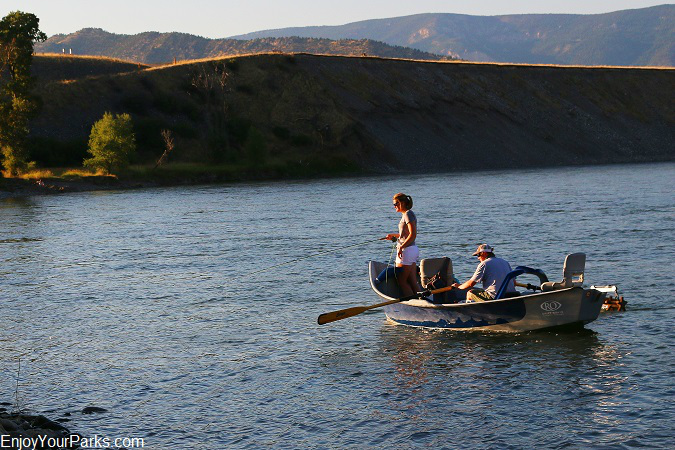 Evening fishing on the Yellowstone River in Paradise Valley is a magical experience.
The Absaroka Mountain Range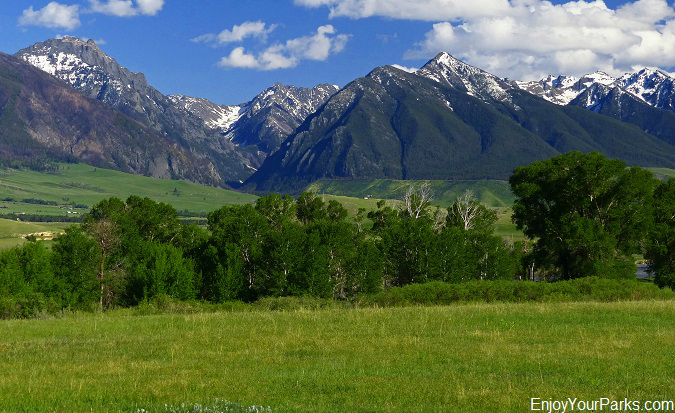 The Absaroka Mountain Range in Paradise Valley rises nearly 6,000 vertical feet above the Yellowstone River to the east.
Rising into the sky along the east side of Paradise Valley, the Absaroka Mountain Range provides an incredibly scenic backdrop.  From the valley floor, these towering mountains rise nearly 6,000 vertical feet, reaching as high as 11,212 feet above sea level at the summit of Mount Cowen.  This massive mountain range is part of the vast expanse known as the Absaroka-Beartooth Wilderness, which is one of the larger wilderness areas in America, being 944,000 acres in size.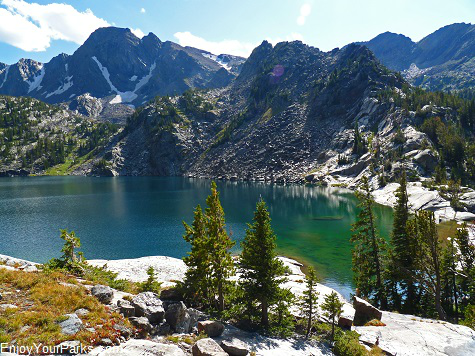 There are several places throughout Paradise Valley to access the Absaroka-Beartooth Wilderness, but one of the most popular accesses and definitely the most popular day hike in the Paradise Valley Area is the Pine Creek Lake Trail.
The paved road to this popular trailhead is located about 10 miles south of Livingston. Take the road to the east where the KOA campground sign tells you to turn.
At the end of the road, there is a very nice forest service campground as well as the trailhead to Pine Creek Lake.
Most people stop once they get to  Pine Creek Falls, but if you're in shape and ready for some cardio exercise, then keep going up the drainage to Pine Creek Lake.  The trail climbs about 4,000 vertical feet in 4 miles!
Emigrant Peak is a very prominent  and familiar mountain in Paradise Valley.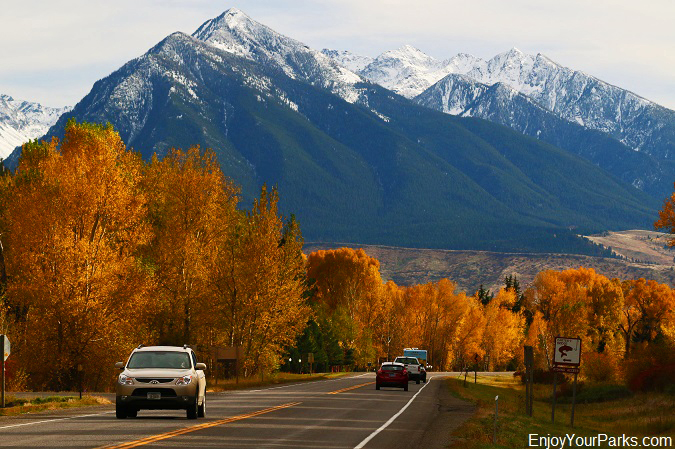 The Absaroka Mountain Range towers thousands of feet over Paradise Valley.

Major Migration Route For Elk and Other Animals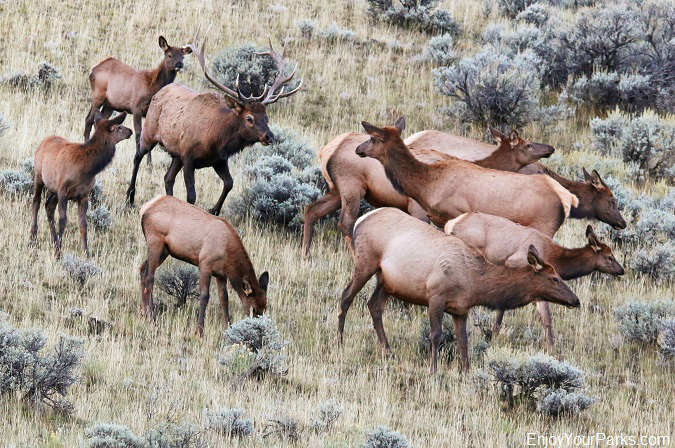 Elk herd in Paradise Valley.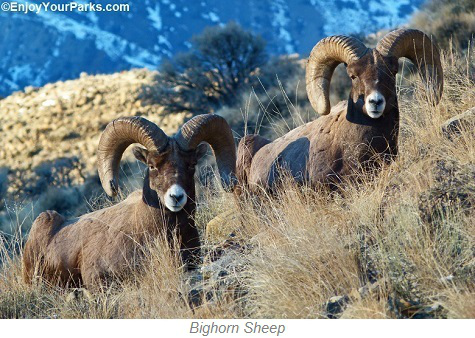 Paradise Valley and Yankee Jim Canyon is home to some extremely important migration paths for animals who spend their summers in Yellowstone National Park. 
For thousands of years, elk, bighorn sheep, mule deer and pronghorns all use Yankee Jim Canyon and Paradise Valley as their "roadway" as they leave Yellowstone Park
in the fall to avoid its harsh winters.
Therefore, not only is Paradise Valley and Yankee Jim Canyon an wonderful place to enjoy outdoor activities in, but this canyon and valley serve as a vital wintering ground for a variety of ungulates.
Brief History of Emigrant Gulch
Near the small town of Emigrant, Montana, which you will drive through on your way midway through Paradise Valley, is Emigrant Gulch.  When gold was discovered here in 1863, the town of "Yellowstone City" was founded, but was quickly abandoned and replaced by "Old Chico".  Old Chico was located at the mouth of Emigrant Gulch, and was the area's hub during this early gold rush.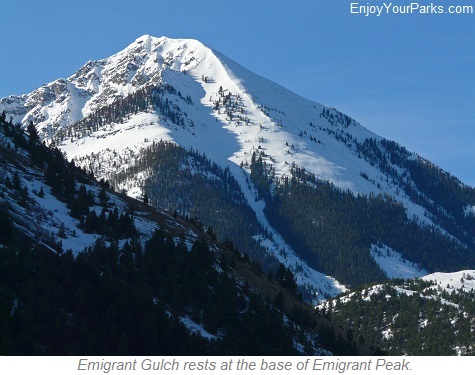 In August of 1864, three emigrants who came to the area via the Bozeman Trail, was in search of gold. But to their dismay, there were already too many men prospecting at the mouth of the gulch.  So these three emigrants worked their way further up the gulch and onto the high slopes of Emigrant Peak.
These three emigrants discovered a good supply of gold high on the slopes of Emigrant Peak, and almost immediately hundreds of miners flocked to this steep rugged mountainside near the head of what is now known as Emigrant Gulch.  About 50 log homes were built here, but because of the elevation and rough terrain, these tough individuals had a horrible time surviving the winter... and all they had to eat was venison.  Many of these hardened miners had to "jump ship" and headed down to Old Chico, where there were more supplies and less snow.
But in less than two years, the gold began to "dry up", and the hostility of the local Crow Indians worsened. These two factors marked the end of the short "gold rush" on Emigrant Gulch, but these rugged souls who endured incredible hardships will not be forgotten in the history books, even though there is very little physical evidence of this brief gold rush in Paradise Valley in the 1860s.
Located near Emigrant Montana in Paradise Valley , nestled at the base of Emigrant Peak, is a very popular Chico Hot Springs.
This historic hot springs consists of two pools, restaurant, grill, bar, hotel and cabins.  Chico Hot Springs also provides horseback riding services, dog sledding and rafting trips.
Brief History of Chico Hot Springs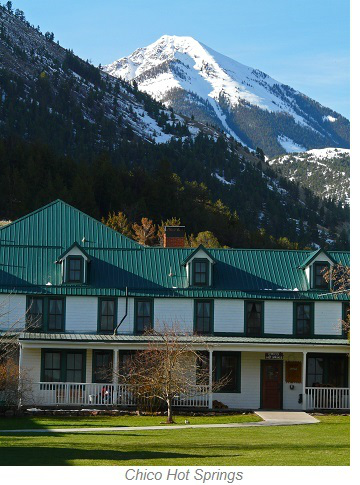 The first people to use these natural hot springs were Native Americans for thousands of years, but the first European Americans to use these springs were gold miners.
The very first recorded writing about Chico Hot Springs was by gold miner John Hackney, who wrote on January 16, 1865, "I went out to the hot springs and washed my dirty duds".
In 1876, a  miner by the name of Randall built some hot houses for a garden he had planted, but not until 1900 did the hot springs became an business venture when Bill and Percie Knowles built Chico Warm Springs Hotel.
This inn had a full service dining room and a pool.  When Bill died in 1910, Percie continued running the business until 1930, when she handed it over to her son Radbourne and his wife Sophia.  Today, Chico Hot Springs is as popular as ever, being a major attraction in Paradise Valley for locals and vacationers alike.
The west side of Paradise Valley stands the Gallatin Mountain Range. This major mountain range runs from Livingston Montana all the way through the west section of Yellowstone National Park.  Its highest peak is Electric Peak, which is 10,969 feet high and is located just northwest of Gardiner Montana.  There are several National Forest access roads along U.S Highway 89 through Paradise Valley and Yankee Jim Canyon, which reaches some popular trailheads for those of you who are hiking enthusiasts.
Gallatin Petrified Forest Interpretive Trail
Just as you leave Paradise Valley and begin entering the Yankee Jim Canyon, you will encounter the Tom Miner Basin National Forest Access Road.  This well maintained gravel road takes you to the Tom Miner Basin Campground, ass well as the trailhead to the Petrified Forest Interpretive Trail.  This petrified forest is about 45-55 million years old, and represents the largest Eocene petrified forest in America.  This rare geological find was the result of a large forest being covered by lava flows and ash.  But what is so unique about this particular petrified forest is not only its size, but nearly 70 percent of the trees are still in their upright position, unlike most petrified forests are of trees laying on their side.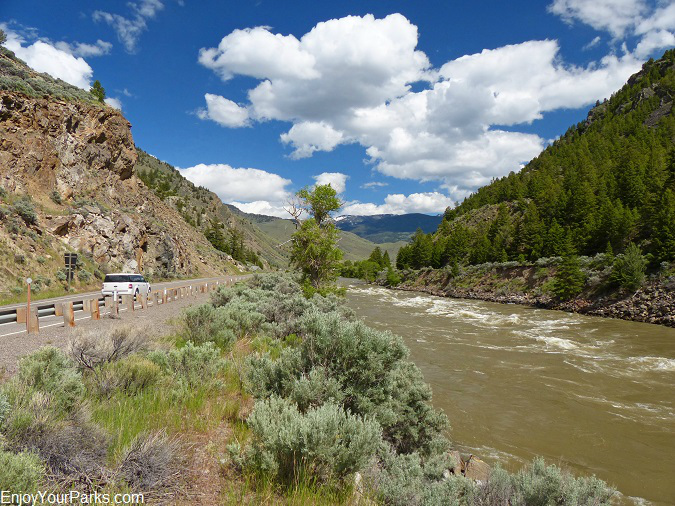 Yankee Jim Canyon and the Yellowstone River.
Paradise Valley begins to narrow just after you reach the Tom Miner Basin Forest Service Access Road intersection (as you are heading south), and thus begins what is known as Yankee Jim Canyon. This narrow canyon is where the Yellowstone River becomes very turbulent, and is where white water rafting enthusiasts are commonly seen riding this wild water.  By the way, by far our favorite rafting guide for the popular Yankee Jim Canyon whitewater, is the Paradise Rafting Company.
Brief History of Yankee Jim Canyon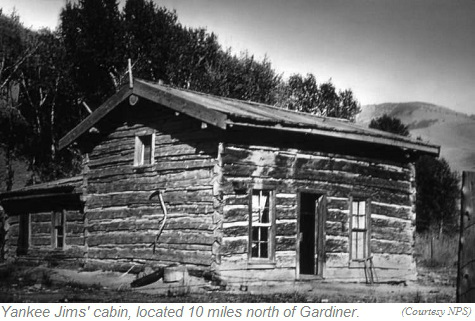 James George came to Montana in 1863 as a hunter and a trapper. In 1870 he bought a small piece of land along the Yellowstone River about 10 miles north of Gardiner Montana and built a small cabin.  Little did he know that just two years later, Yellowstone National Park would be designated the world's first national park, and visitors would begin flocking to this new park to see its natural wonders.
Every single park visitor during this time would arrive in Livingston, and then take horses or stage coaches down Paradise Valley to reach the only entrance to Yellowstone Park at Gardiner Montana. James George's land was located right smack in the middle of this trail to Yellowstone Park. So he did what any red-blooded entrepreneur would do: Charge a toll!  And that's what he did for over 20 years.
He also kept his section of the trail clear of boulders and other obstacles to help Yellowstone travelers with their journey.
Nicknamed "Yankee Jim", James George charged $2.50 cents for a wagon with on team of horses, and one dollar for a single horse and rider. Yankee Jim was remembered as an "extremely colorful" individual, who was a master of telling tall tales and who enjoyed liquor very much...and the more he drank, the taller his tales would become.
Yankee Jim's thriving business came to an end when the Northern Pacific Railroad built a branch line from Livingston to Yellowstone Park in 1883.  He fought a good fight however, first trying to stop the early trains by standing on the tracks with a shot gun, and then by trying to sue the railroad.  He fought a good fight bought lost. However, travelers and railroaders alike would see Yankee Jim come out of his cabin and shake his fist at every train that came through on a daily basis.  Yankee Jim continued to try to scratch out a living by offering supplies and a place to rest for visitors coming into the park on horseback, and of course charged his usual toll, but business was slow, and in 1893, he sold his section of this road to Park County for $1,000.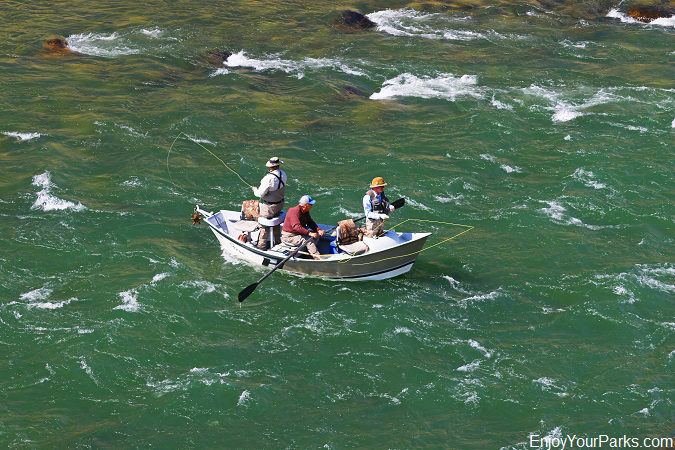 There are excellent fly fishing opportunities in and around Yankee Jim Canyon.
Vacationers enjoying the wild white water in Yankee Jim Canyon.
Yankee Jim Canyon is well known for its amazing white water rafting and kayaking.  These rafting adventures are legendary, especially during the late spring and early summer when the Yellowstone River is at its highest water level of the year during the spring run-off.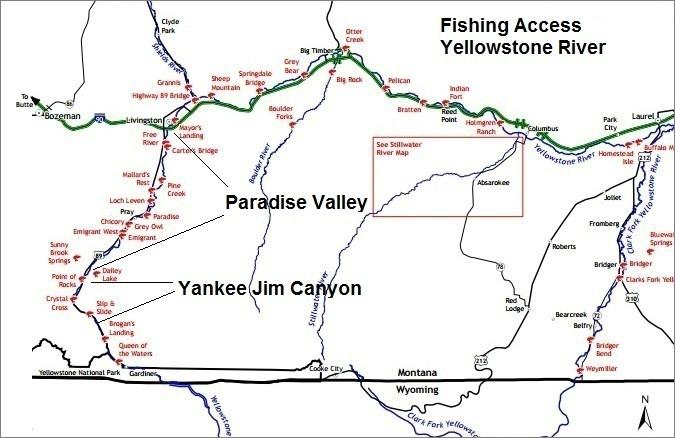 Fishing Access Areas along the Yellowstone River. (Map Courtesy of Montana Fish, Wildlife & Parks)
Yankee Jim Canyon and the Yellowstone River.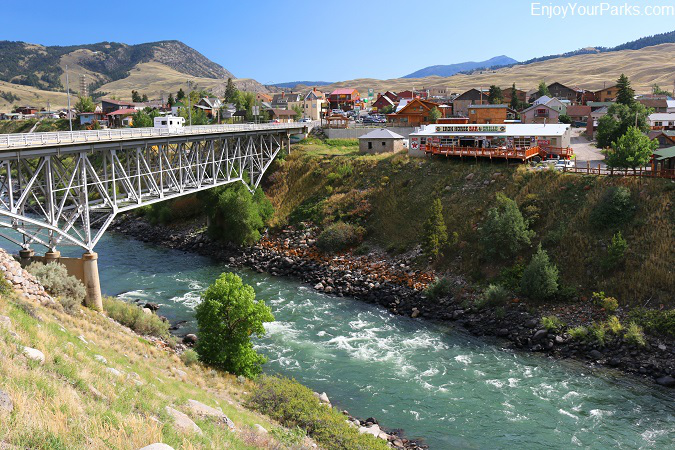 Gardiner Montana is the North Entrance To Yellowstone Park, and is where the Yellowstone River begins its journey out of Yellowstone Park and into Yankee Jim Canyon and Paradise Valley Montana.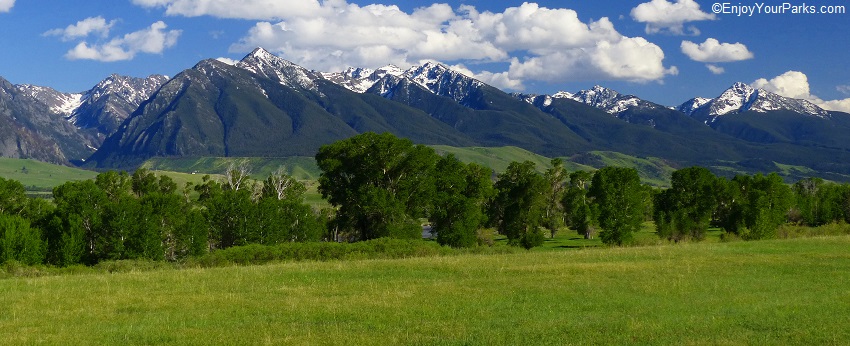 A view from U.S. Highway 89 in Paradise Valley Montana