Includes Whitefish State Park, Whitefish Mountain Ski Resort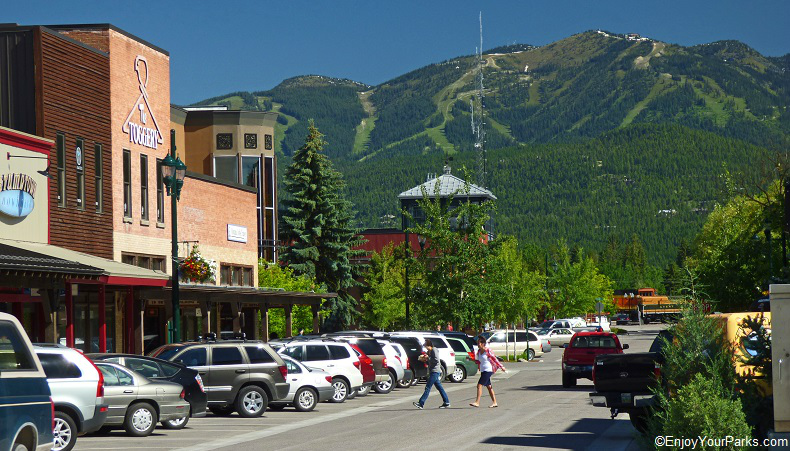 Includes Whitefish State Park, Whitefish Mountain Ski Resort
Whitefish Montana is one of the premier resort towns in Montana and offers everything a visitor could possibly want or need.  Whitefish is located only 26 miles from the west entrance of Glacier National Park at West Glacier along U.S. Highway 2, and is only 16 miles north of Kalispell Montana.  The main attraction at Whitefish Montana, besides it's charming downtown with outstanding shopping and dining, is Whitefish Mountain Ski Resort.  This world-class ski and summer resort rests on the slopes of Big Mountain, which towers directly above this charming resort town to the north.  There are numerous hotels, motels, vacation rentals and campgrounds found here for visitors to make their headquarters while exploring this amazing place.  Whitefish Lake rests on the edge of town, where the City of Whitefish maintains a wonderful beach area for visitors and locals to enjoy.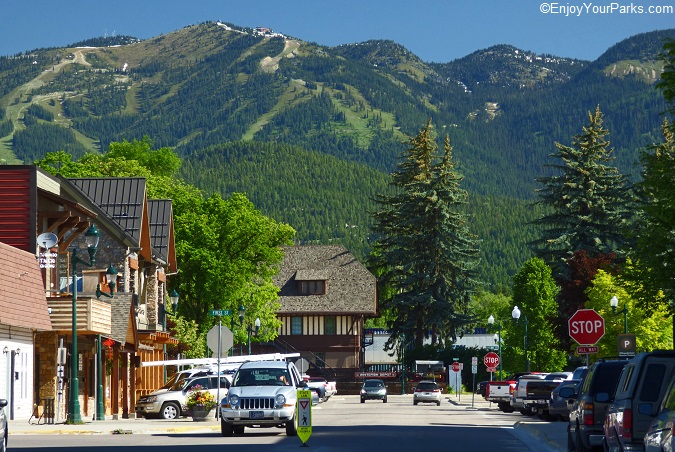 Downtown Whitefish Montana, with Big Mountain looming above it.

The town of Whitefish Montana, with a present population of about 6,500 residents, initially appeared in 1904 when the Great Northern Railway built its tracks through the area as it was creating a convenient means for people to get to Glacier National Park.  Originally known as "Stumptown" because of all the stumps from the timber cleared to build the town, early residents found employment with the Great Northern Railway (owned by Louis Hill who built the Many Glacier Hotel, Glacier Park Lodge, Granite Park Chalet, Sperry Chalet and Prince of Wales Hotel), or they worked for the numerous logging companies in the area.
A big boost to Whitefish Montana happened in the late 1940s after the ski resort on Big Mountain was built through the successful teamwork of several local businessmen.  The ski resort on Big Mountain make tourism an important revenue stream for the economy of Whitefish.
Whitefish Lake State Park
Whitefish Lake is where the name of the town originated, and Whitefish Lake State Park that is located on the outskirt of town is a popular water sport destination.  This 10 acre state park is located two miles west of Whitefish Montana off U.S. 93, and is a popular place to camp and enjoy all types of watersports as there is a nice boat ramp located here.  Both RV and tent sites are availabe, and there is handicapped accessible fishing provided.  Picnic sites with fire rings are also located at this very nice state park for day use.
Whitefish Mountain Ski Resort
Whitefish Mountain Ski Resort is a premier ski resort located on the slopes of Big Mountain, only 4 miles from Downtown Whitefish Montana.  Established in 1947, this world-class ski area has 93 runs with 2,353 feet of vertical elevation gain.  This popular ski resort is the reason for the busy tourist activity in Whitefish all winter long, as thousands of skiers from Washington State and midwestern states such as Minnesota come to enjoy some great Rocky Mountain skiing.
Whitefish Mountain Ski Resort on Big Mountain at Whitefish Montana.

Whitefish Mountain Ski Resort.
Downtown Whitefish Montana
Downtown Whitefish is a perfectly charming main street that is a great place to shop, enjoy fine art and partake in outstanding dining experiences.  This classic resort town's "downtown" is world-class and a joy to explore whether it be summer or winter.  Downtown Whitefish reminds us of other classic resort towns such as Jackson Wyoming or Red Lodge Montana.  It's really a fun place to discover and explore.
Downtown Whitefish Montana.
Downtown Whitefish Montana.
Historic Whitefish Depot and Whitefish Museum
The historic Whitefish Station in Whitefish Montana was a major railroad stop for the Great Northern Railway during its hay day in the early 1900's.  As Louis Hill, the owner of the Great Northern Railway, was heavily promoting Glacier National Park with the slogan "See America First", visitors from the west coast frequently stopped here on their way to see Glacier Park via the train.
Historic Whitefish Depot.
Amtrak Empire Builder: A Popular Means Of Present Day Transportation
Today, the Historic Whitefish Depot is still a major stop for Amtrak's Empire Builder train, as this famous Amtrak train provides transportation for tens of thousands of passengers along Amtrak's northern route across America.  Many of these passengers are on board to see Glacier National Park during the summer, and to ski at Big Mountain during the winter.  Of the 12 Amtrak Stations found along the Amtrak route through northern Montana, Whitefish Station in Whitefish Montana is the busiest stop between Seattle and Chicago.
The name "Empire Builder" is after the Great Northern Railway's trail the Empire Builder that was inaugurated on June 11, 1929 to honor the founder, James J. Hill.  Not only was he the first to successfully create a transcontinental railroad that connected the Midwest (Chicago) with the Pacific Northwest (Seattle). This 2,211 mile railway between Chicago and Seattle was an integral component for bringing people to Glacier National Park.  Louis Hill saw the vision of Glacier National Park, and lobbied hard in Washington DC to create this magnificent park.
At the same time (1913-14), he built the Many Glacier Hotel, Glacier Park Lodge in East Glacier, Prince of Wales Hotel in Waterton National Park, and the back country Granite Park Chalet and Sperry Chalet in the hope that people would flock to Glacier National Park using his railroad.  In theory, he was right, but what actually happened is the automobile became popular a few years later and "derailed" his passenger train business model.  Whitefish, West Glacier, Essex and East Glacier are the popular stops for Glacier Park visitors taking Amtrak.
The Historic Whitefish Depot is on the National Register of Historic Places (Known as "The Great Northern Railway Passenger and Freight Depot"), and is owned by the Stumptown Historical Society, who also owns the Whitefish Museum that's located inside this historic depot.  The Whitefish Museum does a wonderful job of highlighting and bringing to life the areas rich logging history, the strong connection with the Great Northern Railway and much more.
Whitefish Montana holds several very popular annual events, including the Huckleberry Days Art Festival held in early August which features art from over 100 artists.  There are food vendors found throughout the festival, and one of the highlights is the huckleberry dessert bake-off contest that attracts the top bakers from around the area.
Another popular annual event is "The Tast of Whitefish" that features over 25 local restaurants, breweries, wineries and caterers who offer samples of their specialties. This fun event is held in May of each year.
The Whitefish Winter Carnival is yet another popular annual event that celebrates winter with a parade, snow sculptures and of course a "penguin plunge" into the frigid waters of Whitefish Lake.  Winter is just as busy as summer at Whitefish Montana, if not busier, due to the world-class skiing provided on Big Mountain at Whitefish Ski Resort and the many other snow sports available in the area such as cross country skiing, snowshoeing and ice fishing, so winter is a very special and important time for this resort town. Held in February each year, the Whitefish Winter Carnival is without question one of the Flathead Valley's most popular events of the year.