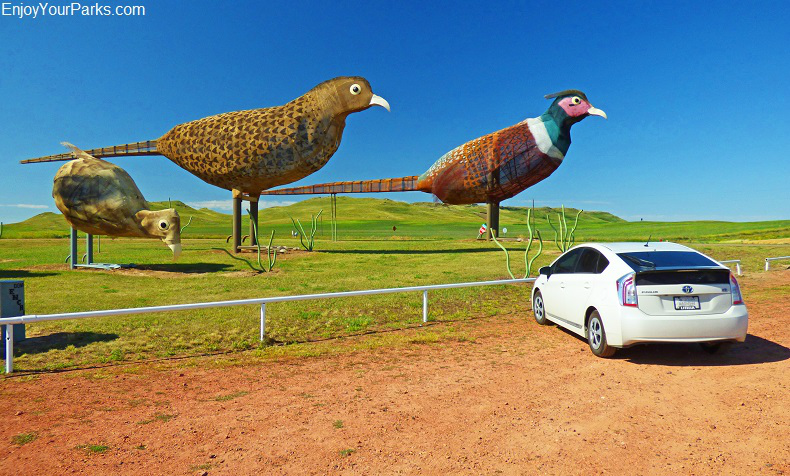 Enchanted Highway in Western North Dakota.
"World's Largest Metal Sculptures"

Driving along "The Enchanted Highway" in Western North Dakota is one of those iconic "things to do" while visiting North Dakota. This classic North Dakota attraction is known for being home to the world's largest metal sculptures.  It's fun, entertaining and actually quite fascinating. The Enchanted Highway  starts on Interstate 94 just east of Dickenson at Exit 72 (near Gladstone), and ends about 30 miles south at the tiny town of Regent, North Dakota.
The Enchanted Highway starts out with the famous "Geese in Flight" right at Exit 72, which everyone who is driving along Interstate 94 can easily see.  Then as you begin your journey southward along the Enchanted Highway, you will encounter a total of 7 metal sculptures... and don't worry, you can't miss them!
You will see giant geese in flight, white tail deer,  grasshoppers, fish, pheasants, Teddy Roosevelt's stagecoach and a tin family. There is a gift shop at Regent that has miniatures of each of these giant metal sculptures so you can take home a "keep-sake" from your Enchanted Highway adventure.  And the bonus is that you'll be driving through some gorgeous farmland that is quite a treat in and of itself.  No vacation to North Dakota would be complete without taking the time to drive down the Enchanted Highway and enjoy these metal sculptures...and of course take your photo with them!
List of Enchanted Highway Metal Sculptures: 
"Geese In Flight", "Deer Crossing", "Grasshoppers in the Field", "Pheasants on the Prairie", "Fisherman's Dream", "Teddy Rides Again", 
"World's Largest Tin Family"
Field of flowers along the Enchanted Highway in North Dakota.
Brief History
Years ago, the small town of Regent was dying, so a welder and a retired school teacher by the name of Gary Greff decided to do something about it.  Gary came up with the concept of the "Enchanted Highway" and started creating the massive metal structures beginning in 1990.  The local farmers were all for it, and are only charging Gary $1 for a twenty year lease for each structure.
There are seven metal sculptures so far, but Gary has plans to add more...including a giant spider!  You'll more than likely see Gary during your journey along the Enchanted Highway, as he is the one who keeps the grass cut and does all the maintenance around these sculptures which includes picnic tables and some playground equipment.  Gary does all of this out of his own pocket and through small donations by locals and visitors who travel the highway.  And as you probably already guessed it, Gary is one of the nicest guys you'll ever meet and he will make your day as he shares his enthusiasm over the Enchanted Highway!
"Geese In Flight" along the Enchanted Highway in North Dakota.