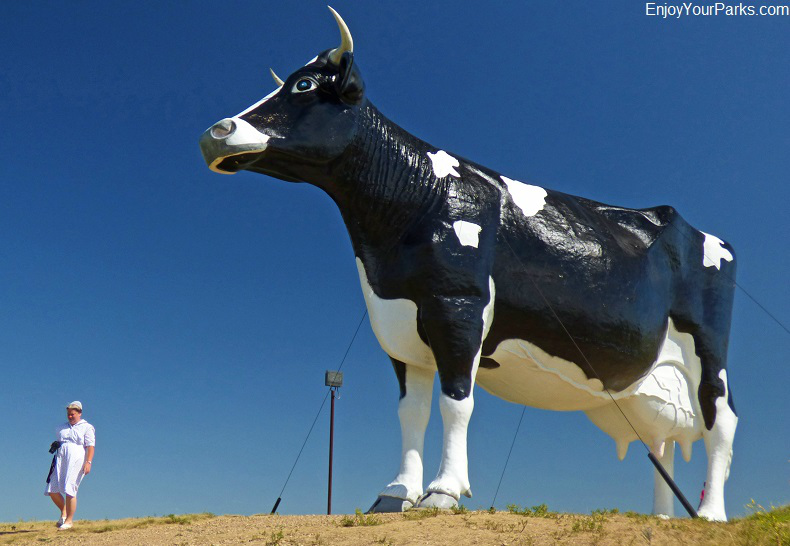 Salem Sue in Salem, North Dakota.
Salem Sue: "The World's Largest Holstein Cow"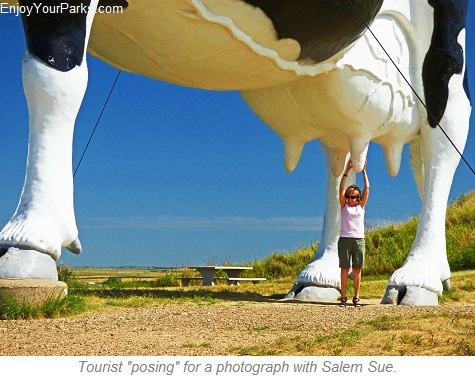 Salem Sue is known as "The World's Largest Holstein Cow", which is actually a gigantic fiberglass sculpture that stands high on a hill in New Salem, North Dakota and looks down upon Interstate 94.
Salem Sue was constructed in 1974 and was sponsored by the New Salem Lions Club.  Salem Sue was built to honor all of the local dairy farming industry, and has turned into a North Dakota Icon.
Located at Interstate 94 Exit 127 S about 30 miles west of Bismark North Dakota, Salem Sue stands 38 feet high, is 50 feet long and can be seen for miles in all directions.  One can only imagine how many photos have been taken of Salem Sue by North Dakota visitors driving by this monstrous Holstein beauty since 1974...and we'll "bet the farm" that you and your family stops to get a photo with Salem Sue during your North Dakota vacation.... because it's one of those things that you just can't pass up!  And we also bet you grab onto her udder for a photo!  Are we right? LOL!
Salem Sue is a famous North Dakota iconic attraction.