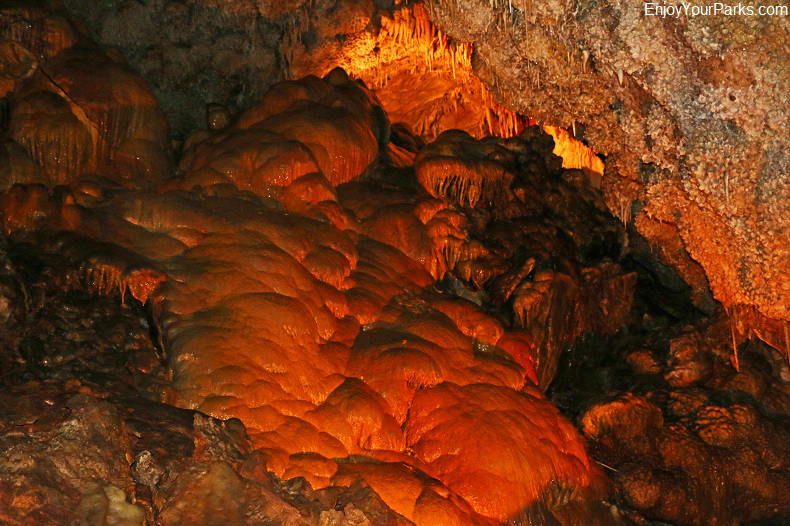 Fargo-Moorhead Visitors Center in Fargo North Dakota.

Jewel Cave National Monument
Jewel Cave National Monument in the Black Hills of South Dakota is home to the third longest cave on earth with over 180 miles of mapped passageways.
Located 13 miles west of Custer, South Dakota, Jewel Cave National Monument is without question one of the top attractions in South Dakota, and is very much worth your time and effort to spend time exploring this fascinating area.
And speaking of "fascinating", it is estimated that the 180 miles of mapped passageways only accounts for 3% to 5% of the total area of the cave...therefore much of this remarkable cave is still unexplored!
Brief History of Jewel Cave
Jewel Cave was discovered in 1900 by two prospectors by the names of Albert and Frand Michaud.  They felt cold air blowing out of a small hole in the canyon, which was the opening to this incredible underground
world.  The hole was too small for a human to fit through, and  it still remains unclear whether anyone else prior to this discovery knew about Jewel Cave, but at this time it seems unlikely.
Of course upon their discovery, the Michaud Brothers tried to capitalize on their discovery by widening the hole and building walkways inside the cave in hopes of attracting tourists.
Because much of the cave walls were covered in calcite crystals that looked like jewels, they appropriately named it Jewel Cave. Even though their business venture proved to be unsuccessful, the news of Jewel Cave soon reached Washington D.C. President Theodore Roosevelt declared Jewel Cave as a National Monument in 1908, and during the Great Depression of the 1930s, the Civil Conservation Corp further developed the area around the natural cave entrance.  In 1933 the National Park Service  took control of its management, and in 1939 it began to offer tours.
What we find fascinating is that up until 1959, less than 2 miles of Jewel Cave was explored and mapped.   Then some local rock climbers by the names of Herb and Jan Conn began to seriously explore the cave, and within 2 years they mapped over 15 miles of Jewel Cave.  Through time, more and more passageways were discovered by a host of individuals, and presently there are over 180 miles of documented cave passageways in Jewel Cave, making it the third largest cave on earth. Much of the cave is found beyond the borders of the Jewel Cave National Monument, and lies mostly under National Forest Service Land.
Then in 1965, after a significant land swap, the National Park Service built a 300 foot elevator shaft down onto a section of the cave that was previously rarely visited. The NPS also built concrete walks and stairs made of metal to create a half mile loop.  Today this half mile loop is used by most of the visitors to Jewel Cave and is where tours are provided by the NPS.
Visitor Center at Jewel Cave National Monument
The Visitor Center at Jewel Cave provides cave tour information, tickets and a bookstore.  There are also exhibits of cave formations and explorations that are quite interesting and very well done.
Jewel Cave National Monument Visitor Center.
Jewel Cave Tours
The NPS provides outstanding tours of Jewel Cave, which is the only way for visitors to enter this underground world. There are several types of tours provided, depending on your interest, and the Visitor Center will have all the information you will need to determine which tour is most suitable for you. And keep in mind that Jewel Cave remains a constant 49 degrees, even during the hottest summer months, therefore make sure to bring a jacket!
Hiking Trails
There are several excellent hiking trails above ground found at Jewel Cave National Monument that visitors can enjoy as they hike through scenic landscape that is home to many varieties of animals.