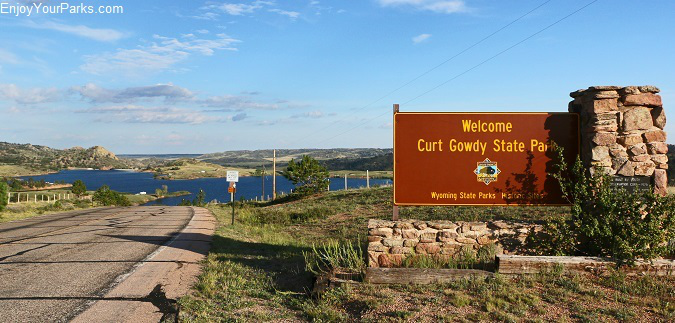 Curt Gowdy State Park, Wyoming.
"It has two beautiful lakes, hiking trails, camping, boating, fishing and beauty....It has everything I love.  What greater honor can a man receive?"
  - Curt Gowdy at the Dedication, 1972
A Beautiful, Diverse Landscape
Curt Gowdy State Park of Wyoming is a beautiful 11,000 acre park with seven sections of incredibly diverse landscape.  Located on the foothills of the Laramie Mountains, Curt Gowdy State Park rests just 24
miles west of Cheyenne Wyoming, and 24 miles east of Laramie Wyoming on Wyoming Highway 210.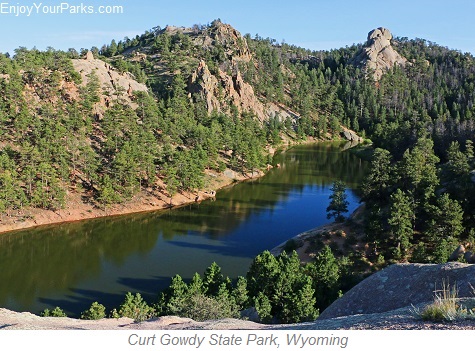 Some of the attractions in this popular state park include three reservoirs- Granite, Crystal and North Crow, that provide shoreline fishing for rainbow trout, kokanee salmon and brown trout as well as fishing from a boat (15 horsepower motor limit).  
There are also gorgeous meadows, rolling green hills and very unique and massive granite formations. There is a large variety of wildlife throughout Kurt Gowdy State Park, as well as many campgrounds (150 sites) and picnic areas.  Hynds Lodge is listed on the National Register of Historic Places, and is located within the park boundary, and there are many miles of bike and hiking trails found throughout Curt Gowdy State Park (32 miles) that visitors truly enjoy.  Horseback riding is also a popular activity in the park.  There is also an amphitheater on the grounds that is available for theater productions, concerts and other cultural activities.
Curt Gowdy State Park in Wyoming.
Curt Gowdy, Famous Wyoming Son
Legendary Sportscasting Career
Born in Green River Wyoming, this famous Wyoming son moved to Cheyenne at age six where he excelled in basketball during his high school years, and then went on to attend the University of Wyoming in

Laramie where he started and lettered in basketball and tennis 3 straight years.In 1943, while recovering from back surgery, his sportscasting debut occurred when we was asked to radio broadcast a 6 man football game in Cheyenne.  And let's just say the rest is history.  Curt Gowdy's radio and television sportscasting career spanned from the 1950s into the 1980s, and included covering pro football, major league baseball,13 World Series, 16 baseball All-Star Games, 14 Rose Bowls, 9 Super Bowls, 8 Olympic Games and 24 NCAA Final Fours.  He was also the host of the ever-popular outdoor show "The American Sportsman" on ABC.
Countless Awards
His career awards are so numerous we don't dare begin to list them all, but it should be noted that he was inducted into the National Sportscaster Hall of Fame in 1981, and was the very first sportscaster to receive the George Foster Peabody Award.  He also received the Pete Rozelle Award from the Pro Football Hall of Fame in 1993, and a lifetime achievement Emmy in 1992.  There are many, many other awards that Curt Gowdy received throughout his amazing career, and the State of Wyoming is very proud that Mr. Gowdy is a true Wyoming Son....said to be "born with a fly rod in one hand... and later on a microphone in the other".  
Curt Gowdy State Park, Wyoming.
When this beautiful park was opened in 1971, and officially named Curt Gowdy State Park on March 27, 1972 on Wyoming's annual "Curt Gowdy Day". Located halfway between where Curt Gowdy grew up and went to high school in Cheyenne and his college days in Laramie, honoring Mr. Gowdy by naming the park after him seemed more than fitting. Gowdy exclaimed, "It has two beautiful lakes, hiking trails, camping, boating, fishing and beauty....It has everything I love. What greater honor can a man receive?" Curt Gowdy passed away on October 12, 2006.
Originally built by Harry P. Hynds, a Wyoming businessman which he donated to the Boy Scouts of America in 1922, the Hynds Lodge was originally used by Wyoming Boy Scouts as their recreational camp. The Hynds Lodge was later used by social groups, businesses and churches, and because it was built on the property that became Curt Gowdy State Park in 1971, the Wyoming State Parks now manages and operates this historic lodge.
The Hynds Lodge is made with granite stone in what is known as "ashlar masonry", which gives the lodge a very unique appearance. Surrounding Hynds Lodge are numerous mature trees, and there are large natural granite formations behind it... and the structure is actually built right into the hillside. There is a large kitchen, dining room, living room, stone fireplace, a covered porch, and can accommodate 30 people... with a maximum of about 90. This historic lodge was added to the National Register of Historic Places on March 23, 1984.
On July 13, 2013, on what would have Curt Gowdy's 94th birthday, a new Interpretive Center was opened at Curt Gowdy State Park.  This gorgeous 7,400 square foot building provides exhibits about the history

of Curt Gowdy Park, as well as Gowdy's efforts to preserve the areas natural resources through the years. This beautiful Interpretive center definitely serves as a very fine monument to Curt Gowdy's wonderful legacy that he left not only Wyoming, but the entire United States and beyond.  Anyone who watched sports in the 60's, 70's and mid 80's all know who Curt Gowdy is and all have nothing but respect for this amazing man. He is a sportscasting icon and a national treasure.
Curt Gowdy State Park Activities
Curt Gowdy State Park "packs a punch" when it comes to outdoor activities.  The list includes wildlife viewing, water skiing, cross country skiing, sailing, windsurfing, backpacking, hiking trails, hunting, horseback riding fly fishing, boating, bird watching, mountain biking , and ATV/OHV motorcross motorcycling....Oh and one of the areas largest archery ranges.  Did we miss anything?
Curt Gowdy State Park, Wyoming.
Curt Gowdy State Park Amenities
Some of the main amenities Curt Gowdy State Park offers includes a convenience store, bbq facilities, pull thru campsites, pet friendly environment, diner, snack bar, forests, three lakes, tent sites, dump station, horse corrals, archery range, picnic areas and more.  The bottom line is the Curt Gowdy State Park is a beautiful area that provides many outdoor activities and amenities, and is definitely a special place to visit during your Wyoming vacation.
Curt Gowdy State Park, Wyoming.