Laramie Wyoming Area Attractions
Includes Wyoming Territorial Prison, Laramie Plains Museum, U of W Geological Museum, American Heritage Center, Lincoln Monument, Vedauwoo Recreation Area and more.
Laramie Wyoming is a wonderful western town that is literally "swimming" in rich in Western history. There are many outstanding museums and attractions found throughout the Laramie Wyoming area that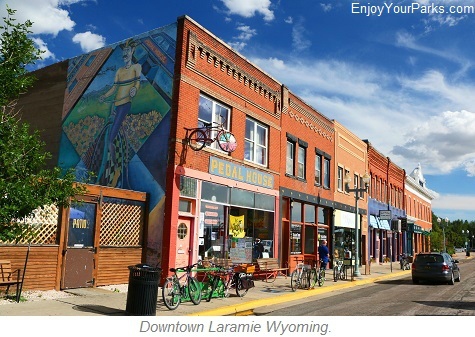 highlight the incredible history of the area, including of course cowboys, Native Americans, pioneers, mountain men, railroaders and much, much more.  
Laramie Wyoming is also home to the University of Wyoming (U of W Cowboys), which is the sole state university in Wyoming, that is home to several amazing museums in addition to the other museums and attractions found within Laramie.  
Laramie Historic District
is a terrific place to see historic buildings, shop and dine as this charming area is an extremely popular gathering place for locals and visitors alike.   There is so much to see and do in Laramie, that we highly recommend that you spend time in this amazing Western town during your Wyoming vacation...especially if you are interested in Western history and enjoy visiting top-notch museums and historical sites.
Laramie Wyoming is located in southeast Wyoming at the junction of Interstate 80 and U.S. Highway 287, and is only 50 miles west of Cheyenne Wyoming.  About 31,000 people live in Laramie, and this classic western community is not only an important center for Western history and culture, but is also a center for outdoor recreation enthusiasts, as Laramie is nestled between the magnificent Snowy Range and the Laramie Range...both of which are meccas for outdoor activities.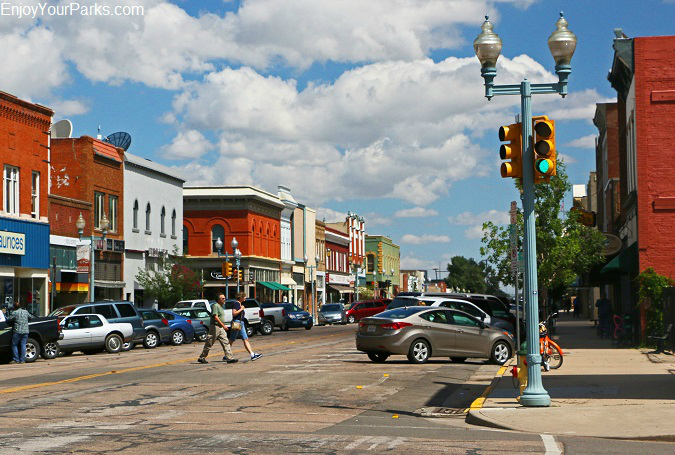 Downtown Laramie Historic District in Wyoming.
Laramie Wyoming was settled in the mid 1860s along the Union Pacific Railroad line.  The name "Laramie" was taken from a French-Canadian trapper by the name of Jacques LaRamie, who disappeared in the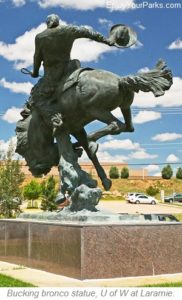 remote Laramie Mountain Range in 1819, and was never heard from again.  LaRamie was one of the very first European to explore the area, and his name was given not only to the town of Laramie, but also to a mountain range, a mountain peak, a U.S. Army Fort, and a county. There are more Wyoming landmarks named after Jacques LaRamie than to any other early day trapper....other than the legendary mountain man/trapper Jim Bridger.
Laramie was originally a tent city near the Overland State Line route in the mid 1860s, which was the Union Pacific portion of the nation's first transcontinental railroad.  The tent city was located just north of Fort Sanders Army Post. On May 4, 1868, the rails reached the town of Laramie Wyoming.  On that very same day, passengers arrived on rail cars.  Only 6 days later, the first passenger service began, and entrepreneurs quickly built more permanent buildings.  In no time at all, the town of Laramie had houses, stores, churches, schools.
Laramie Wyoming became famous as a major Western terminal for the Union Pacific Railroad when the 268 mile section from North Platte, Nebraska was completed in early August of 1868 and a 93 mile section of rails was opened to Benton Wyoming, which is near the present day town of Sinclair.
During the early days of Laramie Wyoming, there essentially were no laws and no lawmen.  Three gunmen made the history books during that time as they took the areas lawlessness to a whole new level.  The three Old West gunmen were half-brothers by the name of "Big" Steve Long, Con Moyer and Ace Moyer. "Big" Steve Long was Laramie Wyoming's very first marshal,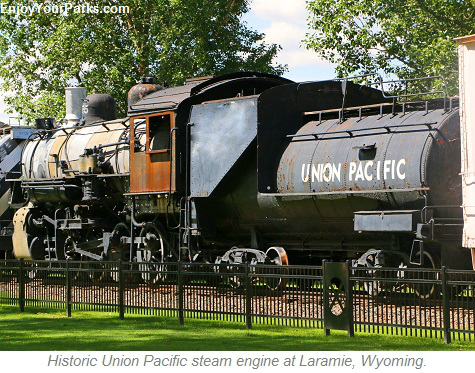 and he used this power, along with help from his half brothers Con and Ace, to harass settlers and forcing them to sign over deeds to their property.
If anyone refused to sign over their land, they were shot and killed.  By October of 1868, these notorious brothers had killed at least 13 men.
Well, the people of Laramie had enough of this lawlessness, and the first county sheriff by the name of N. K. Boswell, who was also a rancher, put together a "Vigilance Committee" and hung the three brothers in an unfinished cabin on the main street of Laramie on October 28, 1868.  In time, after several more lynchings, the lawlessness of Laramie was no longer an issue, and a new era of "law and order" was established.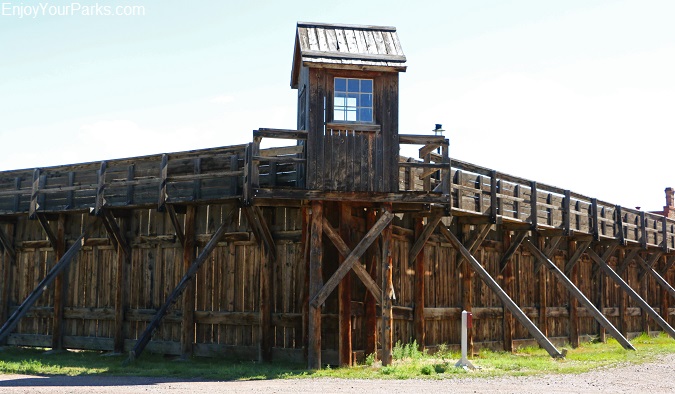 Historic Wyoming Territorial Prison in Laramie.
Wyoming became a territory in 1869, and the first legislature passed a bill that granted equal political rights to men and women living in the Wyoming Territory.  Five Laramie women became the first women on earth to serve on a formal jury, and during the first city election held in Wyoming, a resident of Laramie Wyoming became the first woman in America to cast a legal vote in a U.S. general election.
Laramie Museums and Attractions
There are many incredible museums and attractions that highlight the amazing history of Laramie Wyoming and the surrounding area. And not only is the illustrious history of the area unfolded, but there is also a fantastic dinosaur center that is a "must see" during your time in Laramie Wyoming and much more. Below is a list of some of these fantastic museums and attractions that we recommend that you spend time in exploring and enjoying:
Laramie Plains Museum
University of Wyoming Art Museum
American Heritage Center
Wyoming Territorial Prison
Ames Monument
University of Wyoming Geological Museum
Historic Ivinson Mansion
Wyoming House of Historic Women
Laramie Mural Project
Laramie Planetarium
Lincoln Monument
Laramie Historic Railroad Depot 
Union Pacific Snow Train
University of Wyoming Insect Tour
Vedauwoo Recreation Area
Wyoming Territorial Prison State Historic Site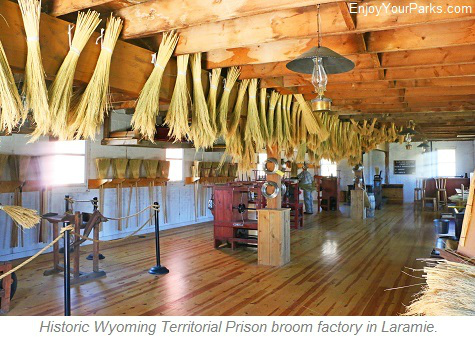 The Wyoming Territorial Prison State Historic Site in Laramie is a fascinating place where visitors can explore a restored 1872 prison where the legendary outlaw Butch Cassidy spent 18 months!  
This definite "must see" while visiting the Laramie Area also includes a furnished Warden's House, a Broom Factory with costumed broom makers showing you exactly how the prisoners used to make brooms, a dining area, guard's quarters, original prison cells, women's quarters, warden's office and infirmary.
The Wyoming Territorial Prison State Historic Site in Laramie Wyoming is extremely interesting and fun to visit, and we are confident you and your family will enjoy your time exploring this historic site.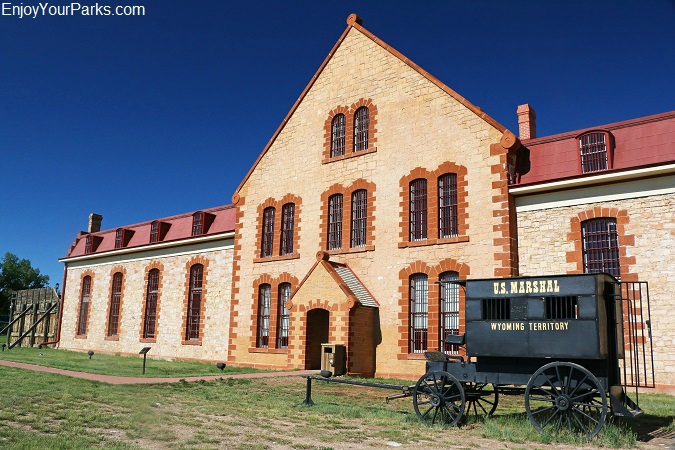 Historic Wyoming Territorial Prison in Laramie Wyoming.
Ivinson Mansion - Laramie Plains Museum
The Laramie Plains Museum is located inside the historic Ivinson Mansion in Laramie Wyoming.
Built in 1892 by Jane and Edward Ivinson, the Ivinson Mansion was regarded as the most significant residence in Laramie at the time of its construction.
Listed in the National Register of Historic Places, all of the artifacts of the Laramie Plains Museum is housed here, and is a fascinating museum to visit during your time in the Laramie Area.
If you're interested in Western pioneer history, you will definitely enjoy the Laramie Plains Museum in Laramie Wyoming.
University of Wyoming Geological Museum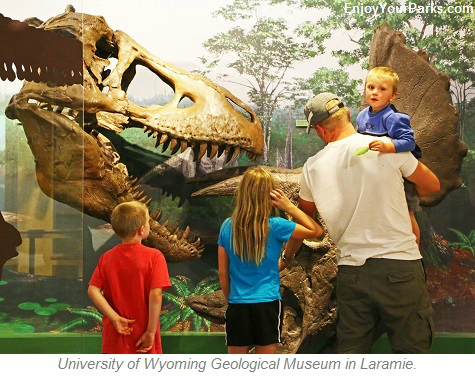 The University of Wyoming Geological Museum is another "must see" while exploring the Laramie Area. This amazing museum is known as Wyoming's very own "Jurassic Park", as it is home to incredible dinosaur displays that you and your family will truly enjoy.
Over 100 tours are given annually at the Wyoming Geological Museum, showing students from pre-school to college age the fascinating world of the dinosaurs.
If you and your family like dinosaurs, then the University of Wyoming Geological Museum is a great place to visit during your time in the Laramie Area.
University of Wyoming Geological Museum in Laramie Wyoming.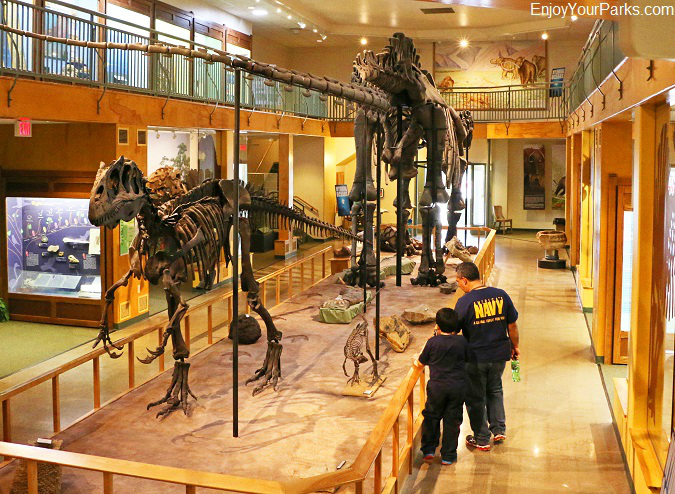 U of W Centennial Complex: American Heritage Center and U of W Art Museum
The University of Wyoming's Centennial Complex was designed by the internationally renowned architect Antoine Predock, and is a remarkable structure that is shaped like a mountain.  It represents both an "archival mountain" and a town that is at its base, which is quite a dramatic structure to gaze upon. Housed within the Centennial Complex is the University of Wyoming's American Heritage Center, which is the university's repository of manuscripts and rare books that are focused on Wyoming Area and Rocky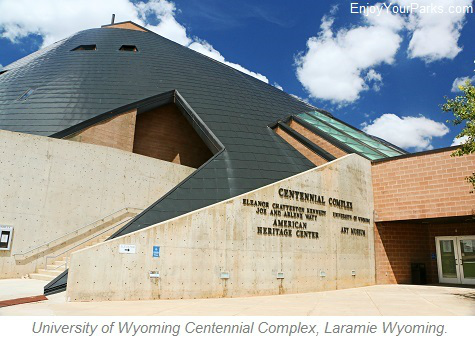 Mountain West.  These priceless documents includes historic settlements, western trails and much more.
Students and scholars from around the world come to the American Heritage Center and use these documents for their research.  
In addition to the American Heritage Center, the Centennial Complex is also home to the University of Wyoming Art Museum, which was established to "bring the world of art to Wyoming."  This fantastic art museum has a permanent collection of over 8,000 objects, which include American and European paintings, sculptures, prints and drawings.  There is also a collection of 18th and 19th century Japanese Ukiyo-e prints, 15th through 19th century Persian and Indian miniature paintings, and much, much more.  If you and your family are interested in art, then you will love visiting the University of Wyoming Art Museum.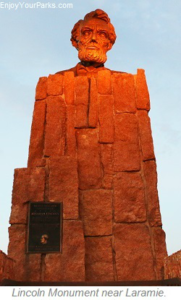 East of Laramie Wyoming at the Summit Rest Area on Interstate 80, the thirty foot high Lincoln Monument stands tall for all to see. This 4,500 pound bronze bust was built in Mexico by Robert Russin, a prominent sculptor.
The 12 and a half foot high bronze bust rests on a 30 foot high granite pedestal.  Next to this remarkable memorial is a very nice visitor center that explains the fascinating history of the Lincoln Monument.  The Interstate that connects New York to San Francisco is referred to as "The Lincoln Highway", and is therefore very fitting to be the home of this profound monument honoring President Abraham Lincoln.
The Wyoming Parks Commission dedicated the Lincoln Monument in 1959 to commemorate Lincoln's 150th birthday, and today over 200,000 travelers view this remarkable sculpture each year. The Lincoln Monument is definitely worthwhile to see during your visit to the Laramie Wyoming Area.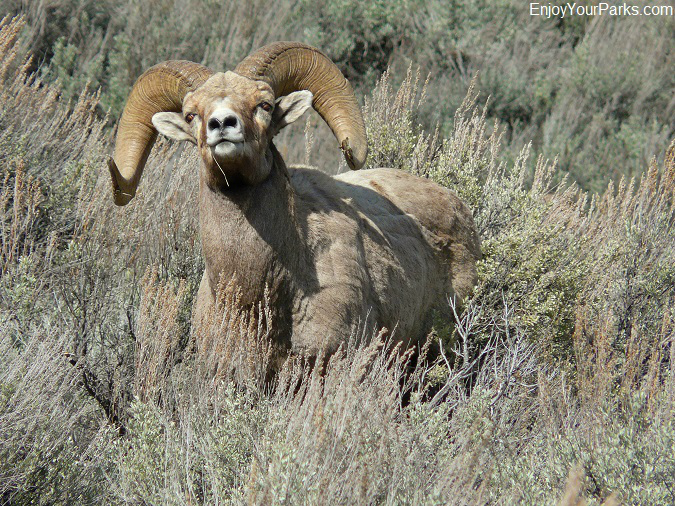 The Summit Rest Area is also where the Henry Joy Monument is located.  Henry Joy was the president of the famous Packard Motor Car Company and was the first president of the Lincoln Highway Association.
Located along Interstate 80 only 15 miles east of Laramie is the Vedauwoo Recreation Area of Wyoming. Known by Arapaho Indiands as  the "Land of the Earthborn Spirit", these amazing granite rock formations provide an outdoor recreation paradise for hikers, rock climbers, mountain bikers and campers.  Located in the Medicine Bow National Forest, the Vedauwoo Recreation Area near Laramie is a magical place that we highly recommend that you take the time to explore.  Click Here for Vedauwoo Recreation Area.
Vedauwoo Recreation Area near Laramie, Wyoming.