Thermopolis Area Attractions
Includes Hot Springs State Park, Wyoming Dinosaur Center, Hot Springs County Historical Museum, Legend Rock State Petroglyph Site
Thermopolis Wyoming is home to several "must see" attractions during your Wyoming vacation, including Hot Springs State Park, Wyoming Dinosaur Center, a herd of Buffalo, Legend Rock Petroglyph Site, Hot

Springs Country Historical Museum and the entrance to the Big Horn Canyon Scenic Byway. No vacation to Wyoming would be complete without visiting the fascinating area of Thermopolis.
Hot Springs State Park
Located directly next to the western town of Thermopolis, Hot Springs State Park of Wyoming includes the world's largest single mineral hot spring. Four million gallons of mineral water pours from Big Spring every 24 hours and a constant temperature of 135 degrees Fahrenheit.  Some of this mineral water pours over the gorgeous Rainbow Terrace before it flows into the Big Horn River.
Brief History of Hot Springs State Park
In 1896, Chief Washakie of the Shoshone Tribe, Chief Sharp Nose of the Arapaho Tribe, and nearly 300 other Native American Leaders signed a treaty with the U.S. Government concerning the land that would eventually be known as Hot Springs State Park.  This land was once utilized by these Native Americans for hunting, but because in the late 1890s the hunting opportunities there became depleted, they no longer had a need for this area.  For the land, the Native Americans received $60,000 in cattle, cash and rations.  This land immediately became the Big Horn Hot Springs State Reserve, which was Wyoming's very first state park.  It was later named Hot Springs State Park, and is a very popular attraction for people visiting Wyoming as well as Wyoming residents.
Established in 1966, the Bighorn National Recreation Area was essentially created following the construction of the Yellowtail Dam by the Bureau of Reclamation.  The dam was named after the famous Crow chairman Robert Yellowtail, and has become an seemingly endless paradise for outdoor enthusiasts.  And an added bonus of the Bighorn Canyon National Recreation Area is the legendary Pryor Mountain Wild Horse Range overlaps the recreation area.  In fact, 25% of the Pryor Mountain Wild Horse Range in fact lies inside the Bighorn Canyon National Recreation Area boundary, providing visitors with fantastic opportunities to see amazing wild horses in their natural environment.
Hot Springs State Park in Thermopolis Wyoming...The world's largest single mineral hot spring.
There is a fantastic suspension foot bridge that crosses the Bighorn River that provides a great vantage point to observe the mineral terraces and Bighorn River.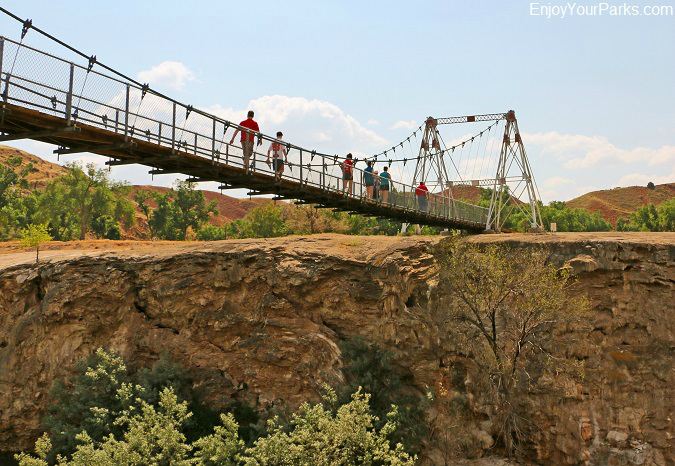 Hot Springs State Park "Swinging Bridge" over the Bighorn River and mineral terraces.
Bath Houses / Pools / Water Slides
Some of this amazing mineral water is diverted into bathhouses for public use. There is no charge to use these bath houses, and the mineral water is kept at a relaxing and therapeutic 104 degrees Fahrenheit.
These bath houses are open year round.  Next to the bath houses are "plunges" where visitors enjoy swimming as well as utilizing just about any type of recreational water equipment you can think of. The Bath House hours are Monday through Saturday from 8:00 a.m. to 5:30 p.m., Sundays from noon to 5:30.
Picnic Shelters
There are several large picnic shelters available in Hot Springs State Park of Wyoming that can be reserved in advance.  These shelters are extremely popular, so keep this in mind when planning your reservations.  Hot Springs State Park of Wyoming is open for DAY USE ONLY.
Hot Springs State Park Bath House.
Thermopolis Swimming Facilities/Water Slides
In addition to the Hot Springs State Park bath houses that are open to the public, visitors can also enjoy the several swimming facilities and water slides within the town of Thermopolis Wyoming.
Each facility utilizes the world famous geothermal hot springs water that is abundant throughout the area.  So if you and your family like water slides, hot tubs and large swimming pools, Thermopolis is a great place to be!
We've enjoyed each facility, and we highly recommend them. The management and staff are courteous, professional, and the facilities are exceptional and very clean.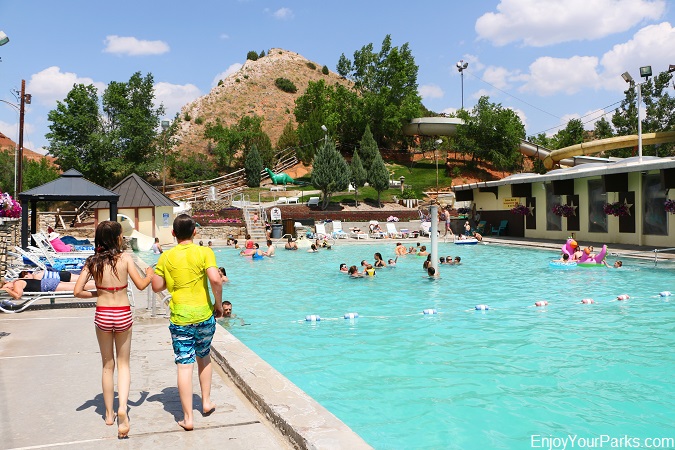 One of the several Thermopolis Wyoming swimming facilities.
Just beyond the hot springs is a herd of buffalo roaming the red hills above the springs for visitors to enjoy viewing.  This bison herd is regarded as the main herd for the Wyoming State Park System.
This provides visitors with a wonderful opportunity to see these gigantic animals in their natural environment.
During late fall and all of the winter months, these buffalo are fed supplements each day at approximately 8:30 a.m., which really gives visitors a chance to see these animals up close and personal!  But of course visitors must always remember to only view these magnificent creatures from inside a vehicle.
Buffalo Herd, Hot Springs State Park.
The Wyoming Dinosaur Center in Thermopolis takes its visitors back 150 millions years in time, where they can enter the prehistoric world of the dinosaurs.
This amazing 16,000 square foot complex contains a world-class dinosaur museum containing dinosaurs from all over the world, working dig sites and a complete modern preparation laboratory.
Dinosaur Museum
The Wyoming Dinosaur Museum provides amazing dinosaur skeletons from all over the world, ranging from the tiny Trilobite to the monstrous Pterosaur.  This is an absolute "must see", as it is a world-class museum that is fascinating to visit and explore.
Wyoming Dinosaur Center, Thermopolis Wyoming.
Working Dig Sites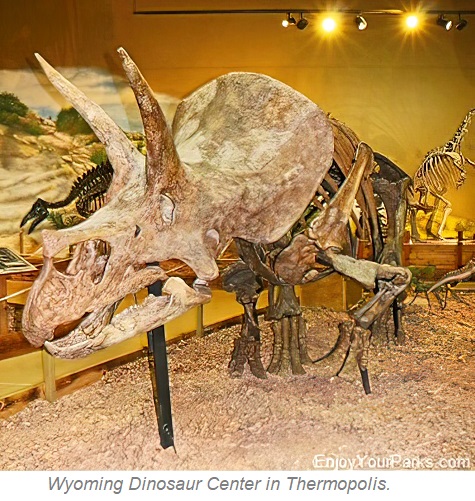 And the Wyoming Dinosaur Dig Sites, visitors can actually watch scientists remove fossils from actual sites as well as walk the exact same ground that dinosaurs did over 150 millions years ago.  By special arrangement, you can work directly along side these scientists for a day!
Preparation Laboratory
The complete modern preparation laboratory on the premises completes the entire process involved in paleontology, from the excavation of the dinosaur skeleton to its preparation for display.  If you like dinosaurs, you'll love the Wyoming Dinosaur Center in Thermopolis.
Hot Springs County Museum and Cultural Center
Located in Thermopolis Wyoming is the Hot Springs County Museum and Cultural Center. This wonderfully put together museum was founded to preserve the amazing history of the area's settlers. With a majority of artifacts dated from the 1880s through the 1930s, the Hot Springs County Museum provides its visitors with remarkable displays of everyday like in Wyoming during this historic period. Founded in 1941, the Museum Complex consists of two floors of exhibits in the main building, as well as five additions structures throughout the grounds of the complex. 
Legend Rock State Petroglyph Site
The world renowned Legend Rock State Petroglyph Site is located about 20 miles northwest of Thermopolis Wyoming, which features literally hundreds of petroglyphs across the walls of Legend Rock. A

large majority of these historic Native American petroglyphs have been remarkably preserved for visitors to observe.
Of the 300+ individual petroglyphs, some of the oldest and best samples of Dinwoody rock art in the entire world are found at the Legend Rock Petroglyph Site of Wyoming.
Registered on National Register of Historic Places, the Legend Rock Petroglyph Site is preserved and cared for by the State of Wyoming, and is considered a Wyoming State Historic Site. The actual size of the petroglyph area is 400 meters long, located on a vertical cliff.  There are over 92 prehistoric panels as well as over 300 petroglyph figures. This world renowned petroglyph site has been a sacred place for Native Americans for thousands of years. This remarkable site is well worth the trip, especially if you're interested in incredibly well preserved Native American petroglyphs. 
Visitor Center and Interpretive Trails
The new Visitor Center located at the site (built in 2011), as well as several Interpretive Trails.  The Legend Rock Petroglyph Historic Site Visitor Center will be open throughout the summer and is operated by volunteer hosts.  During the winter months, visitors may pick up a key from the Thermopolis Chamber of Commerce located at 220 Park Street.
Legend Rock Location:
23 miles north of Thermopolis Wyoming…Take WY 120 north to WY 170. Go west 20 miles to BLM road 1305, then 3 miles west to the site.