Vedauwoo Recreation Area "Land of the Earthborn Spirit"
The Vedauwoo Recreation Area of Wyoming is home to incredible granite rock formations that protrude into the sky, creating an incredible "unearthly" spectacle.
Located along Interstate 80 between Cheyenne and Laramie (only 15 miles from Laramie), the Vedauwoo rock formations are known as "Land of the Earthborn Spirit" to the Arapaho Indians, and have become an outdoor recreation paradise for rock climbers, hikers, mountain bikers and campers. Pronounced "vee-duh-voo", these rock structures are composed of Sherman granite that have been sculpted by millions of years of ice and wind.  The Vedauwoos rise out of the ground of Pole Mountain.  At an elevation of 8,200 feet above sea level, these granite formations are found within the 1 million acre Medicine Bow National Forest.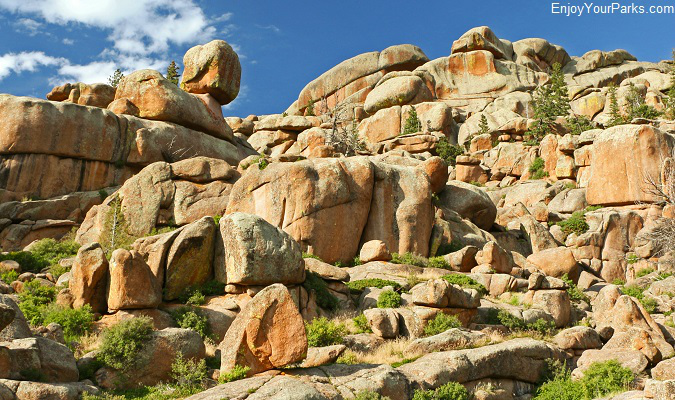 Vedauwoo Recreation Area, Wyoming.
Native American Legend / Outlaw Hideout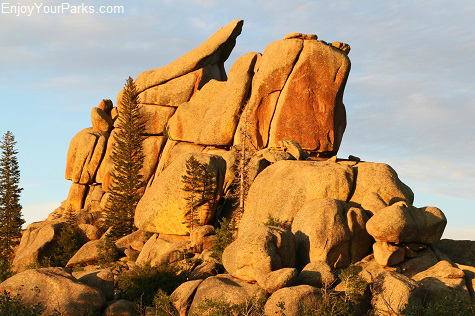 Known as the "land of the earthborn spirit", according to the Arapaho Indians the Vedauwoos were a result of playful, good-natured spirits piling up these rocks in precarious positions. And during the "Wild Wild West" days, the hundreds of nooks and crannies found throughout the rocks then became useful hiding places for western outlaws hiding from the law.  Today, these formations have become popular "hideouts" for outdoor enthusiasts.
There are more than 700 different rock climbing routes found in the Vedauwoo Recreation Area, and is a popular destination for rock climbers from around the world.  Beginning in the 1940s, the Vedauwoo rock formations have been famous for what is known as "wide-crack" climbs (i.e. offwidth) which is technically very challenging, as well as more traditional routes.  Bouldering is also an extremely popular climbing activity in the Vedauwoo Recreation Area.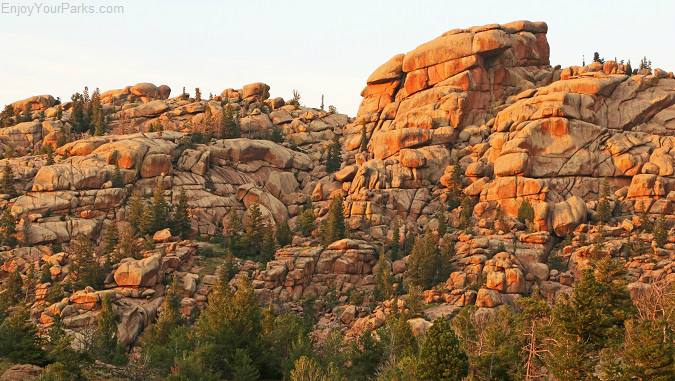 Vedauwoo Recreation Area, Wyoming
The climbing season in the Vedauwoo Recreation Area of Wyoming is usually from mid-April through mid-October, and the typical difficulty of the routes vary from class 5.6 to 5.13.  Local rock climbing guides are available to assist climbers on their Vedauwoo rock climbing adventures.
Hiking and Mountain Biking
There are a wide variety of trails found throughout the Vedauwoo Recreation Area, including easy, smooth treks for mountain bikers and visitors simply wanting to enjoy a pleasant hike, to challenging vertical trail
that take visitors to the top of the numerous Vedauwoo summits. Many of these scenic trails take visitors through aspens and pine trees, and provide wonderful views of the Medicine Bow Mountains. There are many popular hikes found throughout the Vedauwoo Recreation Area of Wyoming, including the ever-popular Turtle Rock Trail, which is a 3 mile hike that works its way around Turtle Rock, and the Box Canyon Trail that leads visitors up to Glen Dome, providing outstanding views of the entire Vedauwoo area.
For Vedauwoo Recreation Area visitors who wish to camp in this beautiful place, the Vedauwoo Campground is waiting here for their enjoyment.  Open from mid-May through the end of October, the Vedauwoo Campground provides tent and RV, and trailer camping, and are filled on a first-come first serve basis as reservations are not accepted.  There are 12 pull-thru sites and 14 tent sites available, and there are restrooms on the premises.
Hotels, Motels and Bed & Breakfasts can be found less than 30 minutes away from the Vedauwoo Recreation Area in the town of Laramie Wyoming, and less than 50 minutes away in the town of Centennial.

Whether you are a hiker, rock climber, mountain biker, or simply someone who loves to observe fascinating and beautiful rock formations from a car, the amazing Vedauwoo Recreation Area is waiting for you.  We thoroughly enjoy the Vedauwoos, and we are confident you will too during your Wyoming vacation.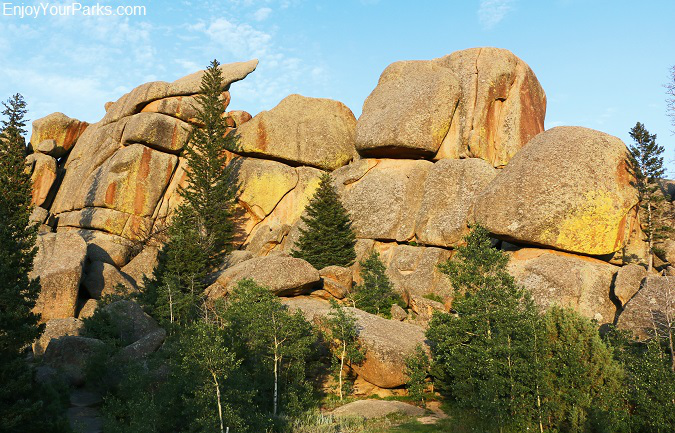 Vedauwoo Recreation Area in Wyoming.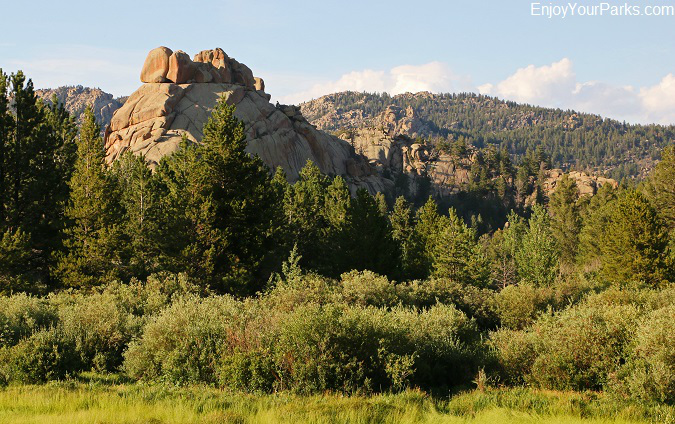 Vedauwoo Recreation Area in Wyoming.