Facts About Yellowstone Park
Includes Fun Facts, History, Geology, Ecology and more.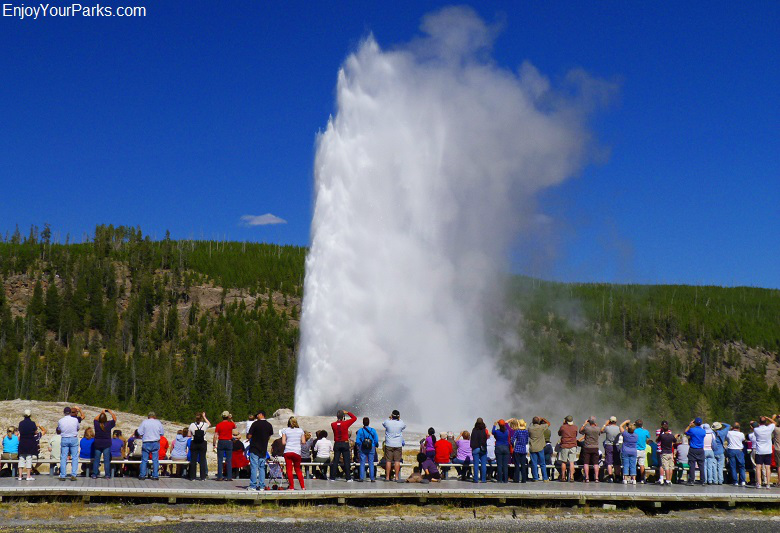 Old Faithful Geyser, Yellowstone National Park
Facts About Yellowstone Park
Includes Fun Facts, History, Geology, Ecology and more.
Yellowstone National Park is the world's first national park, and is one of America's greatest treasures. Over 2 million acres in size, this amazing park is home to over two-thirds of the world's geysers, as well as being home to an incredible array of wildlife species and the largest high altitude lake in North America.  Among some of the most famous icons in Yellowstone National Park include Old Faithful Geyser, Old Faithful Inn, Yellowstone Lake, Lake Yellowstone Hotel, and the Lower Falls of the Grand Canyon of the Yellowstone, just to name a few.  The uniqueness of this incredible area, with its 10,000 geothermal features, 300 geysers, endless vistas, breathtaking scenery, historic lodges and hotels, classic campgrounds, and abundant and diverse wildlife, make Yellowstone National Park not only the world's first national park, but also the world's favorite national park.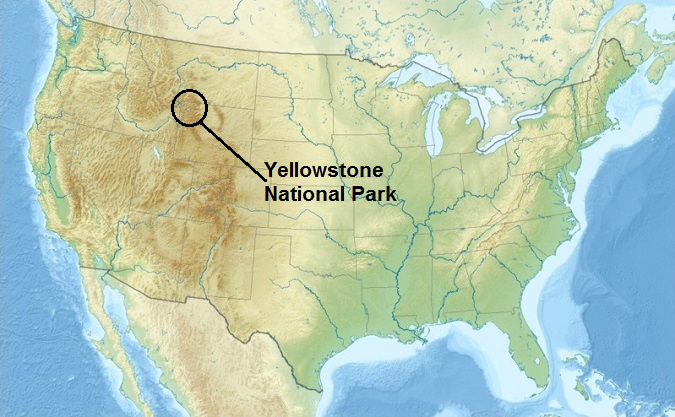 Courtesy of USA edcp relief location map.png.
FUN FACTS ABOUT YELLOWSTONE PARK
YELLOWSTONE PARK LAND
Total size: 3,472 square miles, or 2,221,766 acres
States: Wyoming 96%, Montana 3%, Idaho 1%
Highest Point: Eagle Peak (11,358 ft)
Lowest Point: Reese Creek (5,282 ft)
Total forest land: 80%
Total grassland: 15%
Total water: 5%
Annual Precip Range: 10 inches (north boundary) to 80 inches (southwest corner)
YELLOWSTONE PARK WILDLIFE
Number of species of mammals: 67
Number of species of birds: 322
Number of species of fish: 16 (5 non-native)
YELLOWSTONE PARK VEGETATION
Number of species of conifers: 7
Most common conifer: Lodgepole Pine (comprises 80% of forest)
Number of native vascular plants: 1,150
Number of non-native plants: 199
YELLOWSTONE PARK VOLCANO
Caldera Size: 30 miles x 45 miles (One of the largest in the world)
Volcano Status: Active
YELLOWSTONE PARK GEYSERS
Number of geysers: 300+
Number of thermal features: 10,000+
Percentage of world's geothermal features: 50%
Percentage of world's geysers: 67%
World's largest geyser:  Steamboat Geyser (Norris Geyser Basin)
YELLOWSTONE PARK EARTHQUAKES
Number of earthquakes annually: 1,000 to 3,000
Largest recorded earthquake: Magnitude 7.5 (1959)
Total number of earthquakes over magnitude 6: 6
YELLOWSTONE PARK WATERFALLS
Number of waterfalls: 290 year-round
Tallest waterfall: 308 feet (Lower Falls of the Yellowstone River)
YELLOWSTONE LAKE
Size: 131.7 square miles of surface area (87,040 acres)
Shoreline: 141 miles
Distance North to South: 20 miles
Distance East to West: 14 miles
Average Depth: 140 feet
Maximum Depth: 410 feet 
Elevation: 7,733 feet
Yellowstone Lake is the largest high-altitude lake in North America.
YELLOWSTONE PARK ENTRANCES
Number of Park Entrances: 5
North Entrance: Gardiner, Montanaa
Northeast Entrance: Near Silver Gate and Cooke City, Montana
East Entrance: Near Cody, Wyoming
West Entrance: West Yellowstone, Montana
South Entrance: North of Grand Teton National Park
YELLOWSTONE PARK LANDMARKS
Number of historic buildings: 900
Number of sites, landmarks and districts on the National Register of Historic Places: 24
Number of archeological sites: 1,600
YELLOWSTONE PARK ROADS
Miles of paved roads: 310 miles
YELLOWSTONE PARK BOARDWALKS
Miles of boardwalks: 15
YELLOWSTONE PARK HIKING TRAILS
Miles of hiking trails:  950 miles 
Number of trailheads: 92
Number of backcountry campsites: 301
YELLOWSTONE PARK SELF-GUIDING TRAILS
Number of self-guiding trails: 13
YELLOWSTONE PARK ACCESS TO LAKES
Number of marinas: 1 (Bridge Bay Marina on Yellowstone Lake)
Number of boat ramps: 3 (Bridge Bay, Grand Village and Lewis Lake)
YELLOWSTONE PARK CAMPGROUNDS
Number of campgrounds: 12 (1,745 sites)
Mammoth Campground
Tower Fall Campground
Canyon Campground
Fishing Bridge Campground
Bridge Bay Campground
Grant Campground
Madison Campground
Norris Campground
Indian Creek Campground
Lewis Lake Campground
Slough Creek Campground
Pebble Creek Campground
For details on all the Yellowstone Park Campgrounds, click here.
YELLOWSTONE PARK PICNIC AREAS
Number of picnic areas: 52
YELLOWSTONE PARK LODGES / HOTELS / CABIN RENTAL AREAS
Number of lodges / hotels / cabin rental areas: 13 (2,000+ hotel rooms/cabins)
Old Faithful Inn
Old Faithful Lodge Cabins
Old Faithful Snow Lodge and Cabins
Grant Village
Lake Yellowstone Hotel and Cabins
Lake Lodge Cabins
Mammoth Hot Springs Hotel and Cabins
Roosevelt Lodge Cabins
Canyon Lodge and Cabins
VISITOR CENTERS / MUSEUMS
Number of visitor centers and museums: 9
BRIEF HISTORY OF YELLOWSTONE PARK
Yellowstone National Park got its name originally from French trappers in the area at the end of the 18th century.  They called the main river in this area "Roche Jaune" which was loosely translated later by
American Trappers as "Yellow Stone", and thus the name Yellowstone River.  It is assumed that this name

came from the bright yellow-colored rocks of theGrand Canyon of the Yellowstone River.  When the area underwent consideration as the world's first national park, they elected to call it Yellowstone National Park, after the Yellowstone River whose headwaters are located there.
First Humans
Humans first came to the Yellowstone Park Region at least 11,000 years ago when Native Americans began hunting and fishing in the modern-day Yellowstone National Park.  Then white explorers first came close to Yellowstone Park during the Lewis and Clark Expedition in 1805 through Montana.  These explorers encountered Shoshone, Crow and Nez Perce Indians, and were told of the incredible land to the south, but neither Lewis or Clark pursued these claims.
Explorers / Trappers
Then in 1806, a member of the Lewis and Clark Expedition by the name of John Colter left the expedition and joined a group of fur trappers.  In 1807, after splitting up with these trappers, John Colter spent the winter of 1807-1808 and saw a steaming geyser near Tower Fall.  After barely escaping hostile Indians, he told of what he witnessed, but many thought we was simply suffering from delirium. 
During the next 40 years, trappers and mountain men who visited the area would speak of boiling water in these mountains, but again the public thought this was simply myth.  For example, in 1856 the famous mountain man Jim Bridger witnessed several geysers first-hand, but when he told people of the incredible things he saw, they dismissed it because Jim Bridger was known to tell tall-tales.
In 1860, guided by Jim Bridger,  Captain William Raynolds and Ferdinand Hayden came to the west for a two year project to survey the Northern Rockies.  However, when attempting to cross the continental divide between the Wind River Range and Yellowstone Park, they were stopped by snow and weather, otherwise they would have been the first organized expedition to explore the Yellowstone Park area.
The First Expedition
The first detailed expedition to Yellowstone Park in 1861.  Known as the Cook-Folsom-Peterson Expedition, these men floated the Yellowstone River all the way to Yellowstone Lake.  They kept a detailed journal, and


after reading it, a group of Montanans organized another expedition known as the Washburn-Langford-
Doane Expedition of 1870. This expedition included Henry Washburn (surveyor), Nathaniel P. Langford (Yellowstone Park's first superintendent), and Gustavus Doane (army commander).  They spent over a month in Yellowstone Park, naming landmarks such as mountains and rivers, collecting specimens, and exploring the area.
In 1870, Cornelius Hedges, a member of the Washburn-Langford-Doane Expedition and a Montana lawyer and writer, recommended publicly that Yellowstone be preserved as a National Park.  His words were the echo of the Montana Territorial Govenor Thomas Francis Meagher, who previously in 1865 recommended that this area be protected.
Hayden Expedition
Then in 1871, 11 years after his failed attempt into the region, Ferdinand Hayden led a government sponsored expedition into Yellowstone Park, bringing with him a photographer by the name of William Henry Jackson, and landscape artist Thomas Moran.  Hayden then compiled a thorough report, which included large-format photos and detailed paintings, and was able to convince Congress to act. On March 1, 1872, President Ulysses S. Grant signed the law that created Yellowstone National Park.
Yellowstone "Super Volcano"
Yellowstone National Park is basically a giant active volcano.  It is the largest volcanic system in North America, and the opening of this volcano (known as the Yellowstone Caldera), is one of the largest calderas in the world.  But the Yellowstone Caldera isn't just a big volcano, it's what geologists call a "Super Volcano" because of how explosive and destructive its eruptions have historically been.
There have been a number of major eruptions through geological history, such as the massive eruption that occurred 2.1 million years ago where 588 cubic miles of volcanic materials were ejected, and 1.3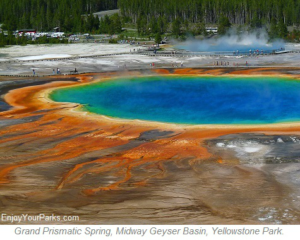 million years ago where 67 cubic miles of volcanic materials were ejected. The most recent cataclysmic
eruption occurred about 640,000 years ago, where 240 cubic miles of debri were ejected.  The ash from this event covered a large area of North America, and actually caused animal extinctions.  This cataclysmic eruption was over 1,000 times bigger than the 1980 eruption of Mount St. Helens.  
Between 640,000 years ago and 70,000 years ago, there have been a series of "smaller" eruptions, where this debri and lava has filled in most of the present day Yellowstone Caldera.  Rivers such as the Yellowstone River and Lewis River have cut through these huge lava flows, resulting in deep V-shaped canyons such as the Grand Canyon of the Yellowstone.  To monitor the volcanic activity in Yellowstone National Park, in 2001 the U.S. Geological Survey, Yellowstone National Park, and University of Utah have teamed up to form the Yellowstone Volcano Observatory (YV0).
Earthquakes
Yellowstone Park experiences from 1,000 to 3,000 earthquakes annually, most of which are so small nobody notices them.  However there have been 6 earthquakes with a magnitude of 6 or higher, and the
most infamous earthquake occurred in 1959 where a 7.5 magnitude quake hit just outside the northwest

boundary of the park.  This quake caused the entire side of a mountain to collapse and block the Madison River just below Hebgen Lake, which created Quake Lake.
Geothermal Features
Yellowstone Park is presently home to over 300 geysers and over 10,000 geothermal features.  That's over half of the world's geothermal features and two-thirds of the world's geysers.  The largest active geyser in the world is Steamboat Geyser, which is located in the Norris Geyser Basin, and the most popular and visited geyser in the world is of course Old Faithful Geyser, which is located in the Upper Geyser Basin in Yellowstone Park near Old Faithful Inn.

YELLOWSTONE PARK ECOLOGY / BIOLOGY
Yellowstone National Park is over 2 million acres in size, and is the centerpiece of the enormous 20 million acre area known as the Greater Yellowstone EcoSystem.  This large, nearly intact ecosystem includes Grand Teton National Park, and the surrounding national forests and designated wilderness areas.  The Greater Yellowstone Ecosystem is regarded as one of the largest remaining continuous stretches of mainly undeveloped land in the United States.
Animals

Yellowstone Park has over 67 mammal species, 322 bird species, 16 fish species with 5 being non-native, and 1,349 plant species, where all of the original faunal species that were present when white explorers first laid their eyes on Yellowstone Park, are still found in this incredible place.
Life Zones
There are eight "life zones" found in Yellowstone National Park, which include the Hydrothermal Life Zone, Marshland and Aquatic Life Zone, Northern Desert Life Zone, Sagebrush-Grassland Life Zone, Mixed Forest Life Zone, Lodgepole Pine Life Zone, Spruce-Fir Life Zone, and Alpine Tundra Life Zone.  Each of these zones provide a home to an incredibly diverse array of animal and plant life, and are much determined by the altitude of the land and the amount of annual precipitation that particular area receives.

OLD FAITHFUL INN: THE ORIGINAL "PARKITECTURE"
The design and construction of the Old Faithful Inn is known as Parkitecture, and it was the first of its kind. Since its construction during the winter of 1903-1904, national parks throughout the United States and the world followed this classic rustic design.
Old Faithful Inn is one of the most beloved structures in the United States.  In fact, in 2007 the American Institute of Architects conducted a survey of what Americans felt were the 150 favorite buildings in the United States. Old Faithful Inn ranked 36th.
Old Faithful was designed by 29 year old architect Robert Reamer. He wanted this building to be part of its surroundings, so most of the materials used to build the Old Faithful Inn were materials found in the immediate area, such as fallen and dried-out Lodgepole pine trees and Rhyolite stone.  Built in the winter of 1903-1904, it is still the largest log hotel in the world, and probably the largest log building in the world. Known as "The Old House", the Old Faithful Inn is truly a national treasure, and is a favorite destination for Yellowstone Park visitors year after year.
Where To Go, What To Do, and Where To See Animals in Yellowstone Park...
For all the details on where to go, what to do, and where to see animals in Yellowstone National Park, please visit our page entitled "All About Yellowstone Park".
 Bull elk walking across Mammoth Hot Springs Terrace in Yellowstone National Park.