Trailhead:  The Inside North Fork Road (a.k.a. Glacier Route 7)
Distance:  12.3 miles to Dutch Lake (one way)
Elevation Gain:  1,943 vertical feet
Hiking to Dutch Lake along the Dutch Lake Trail is definitely not one of our favorite Glacier Park Hikes.  In fact, it's not even in the top 50.  It has been many years since we hiked to Dutch Lake along the Dutch Lake Trail, but what we remember about it was that it wasn't particularly scenic, and the trail was very poorly maintained with 4 or 5 Dutch Creek fords, and a fair amount of route finding where the trail became swallowed up by the undergrowth.  There were also about 25 downed trees across the Dutch Lake Trail.
We will eventually dig out our film photos of Dutch Lake and will transfer them over to digital so we can show you what Dutch Lake looks like.  But again, this isn't one of our favorite Glacier Park Hikes, and we don't recommend it unless you've hiked all the classic Glacier Park Hikes first.
The trailhead to the Dutch Lake Trail is located on the Inside North Fork Road, about 3.5 miles north of the Camas Creek Trailhead.  The Dutch Lake Trailhead is about 40 yards north of Dutch Creek near a stand of cottonwoods.  The trailhead is not obvious, but you'll find it.
What we remember about this hike is that the Dutch Lake Trail will take you through areas of past forest fires, intermixed with areas of unburned forest.  We recall approximately 4 to 6 Dutch Creek fords along the way (there are no bridges), and there were well over 20+ trees that had fallen over the trail.  Now this will of course be different each year, and different throughout the season because the NPS trail crew periodically goes through this trail and clears these fallen trees.
There were several places where we had to route find along the Dutch Lake Trail in Glacier Nationa Park because the trail seemed to disappear at times due to the heavy underbrush.  Of course this situation will change year after year, depending on what the trail crew does and what the vegetation situation is.
Concerning elevation gain along the Dutch Lake Trail in Glacier National Park, the trail is fairly gradual until you reach a section of switchbacks about 3 miles before you get to the lake.  The switchbacks take you onto a shelf as it works its way to Dutch Lake, and the scenery begins to improve as you get closer and closer to Dutch Lake.  Once you reach Dutch Lake, you can see Longfellow Peak to the northeast, as well as what is known as Paul Bunyan's Cabin, which is a large flat-topped "spire" for lack of a better term, and is quite interesting to observe.
By the way, we saw three different grizzly bears along the Dutch Lake Trail when we hiked it, so make sure you talk loud and carry bear spray.
Current Status of Dutch Lake Trail
We've recently talked with back country rangers (2013) about the status of the Dutch Lake Trail, and they said that every year the trail crew will clear the fallen trees from the trail.  These rangers also stated that route finding is still necessary on some sections of the trail, and in one particular section of the trail, Dutch Creek has changed its course and it now running through a part of the actual trail.  The bottom line is that it sounds like the familiar Dutch Lake Trail that we encountered many years ago, with the addition of Dutch Creek taking over part of the trail.  Would we recommend this trail?  Not when there are so many other world class Glacier Park Hikes that are far more enjoyable and scenic.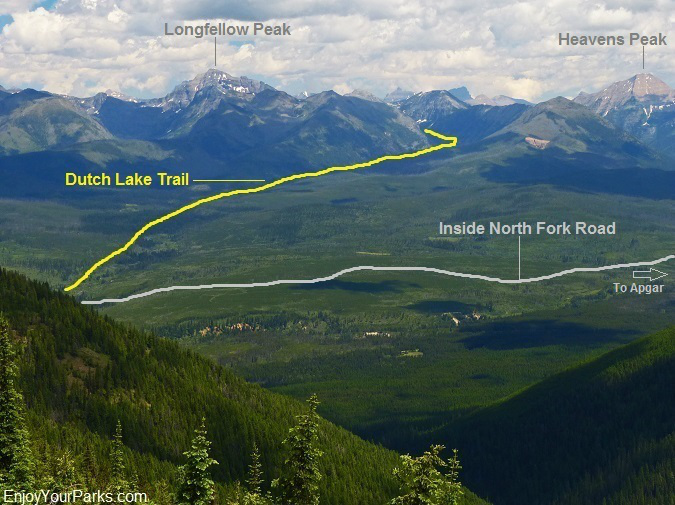 Dutch Lake Trail in Glacier National Park.