Glacier Park Multi-Day Hikes
Includes Every Multi-Day Hike in Glacier Park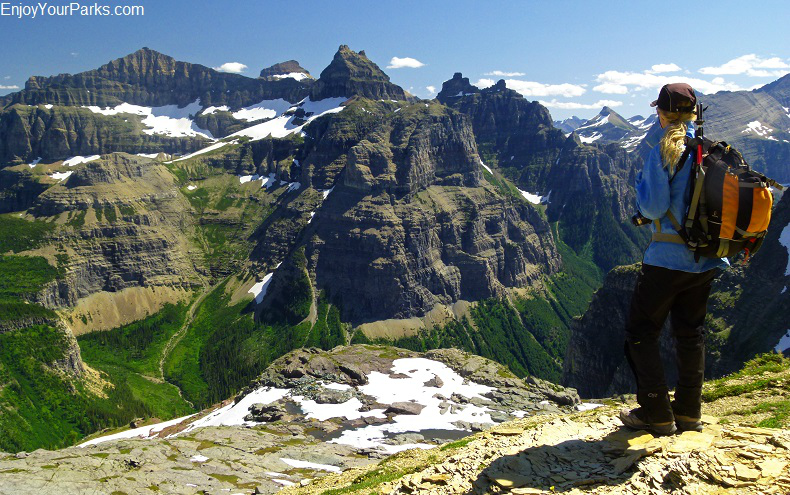 Glacier Park Multi-Day Hikes
We've hiked every trail in Glacier National Park, most of them more than once, and many of them dozens of times.  Below is a list of every multi-day hike available in Glacier National Park, including our five favorites. We've also included some extended multi-day hikes that combine some of these popular multi-day hikes together....
CHECK OUT OUR NEW BOOK ON AMAZON
THAT FEATURES EVERY MULTI-DAY HIKE IN GLACIER PARK!
Our Five Favorite Glacier Park Multi-Day Hikes:
If you are hiking from Kintla Lake or Bowman Lake to Goat Haunt, there are no shuttle services provided on the west side of the park. Therefore, make sure you arrange for a car to be at the trailhead, and a car to be at Waterton Township.  If your "pick-up" car is located at Many Glacier or St. Mary, you can arrange for the East Side Shuttle to pick you up at Waterton Township and take you to St. Mary.  You can also get on Glacier Chat and find out who's hiking on the same trail the other way.  You can exchange keys along the trail.
Many Glacier Hikers Shuttle
Xanterra provides a Many Glacier Hiker's Shuttle for a fee.
The East Side Shuttle Service  no longer (2017) provides transportation between Waterton Township and East Glacier Montana.  In the past, if you were hiking the Stoney Indian Pass Trail, you could park your car at the trailhead (Chief Mountain Customs), and arrange for the East Side Shuttle to pick you up at Waterton Township and take you back to your car at Chief Mountain Customs Trailhead.  This option no longer exists as of 2017.

The NPS provides a free shuttle service along the Going To The Sun Road between St. Mary Visitor Center and Apgar Visitor Center.  This shuttle service is helpful, for example, for those of you hiking the Gunsight Pass Trail.  Leave your car at Lake McDonald Lodge, and take the NPS shuttle to the Jackson Glacier Overlook on the Sun Road, and begin your hike there.

Additional Popular Glacier Park Multi-Day Hikes:
Extended Multi-Day Hikes in Glacier National Park:
Backcountry Permits
All overnight backpacking in Glacier National Park requires a backcountry permit.  Make sure to book your reservations early with the NPS to ensure you get the hike that you want.  For more information on backcountry permits, click here.