Mount Washburn / Dunraven Pass Area
Includes Mount Washburn Lookout, Dunraven Pass
Mount Washburn in Yellowstone National Park.         
Mount Washburn / Dunraven Area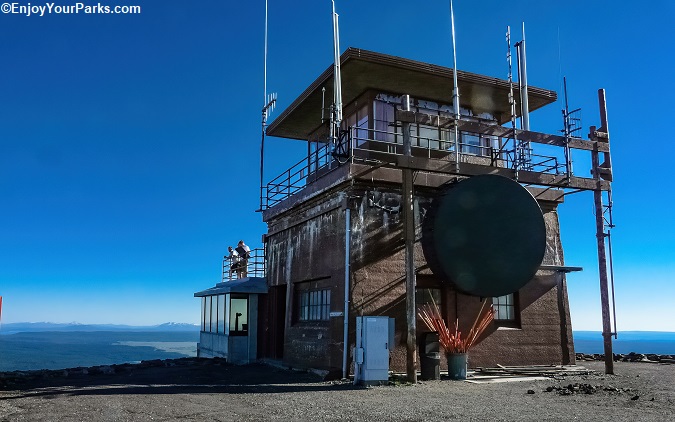 The Mount Washburn Lookout rests on the summit of Mount Washburn
The Mount Washburn Area in 
Yellowstone National Park
 is a remarkable place for many reasons, but first and foremost reason is that it's really HIGH, so you can literally see the entire park from this vantage point.
Mount Washburn (10,243 feet)
 rests between 
Tower
 and 
Canyon
, and the entire drive is spectacular.  The highway eventually reaches it's highest point at 
Dunraven Pass (8,859 feet),
and if you then want to get even higher, there is a maintained hiking trail that takes you all the way to the summit of Mount Washburn in just a few short miles!
Dunraven Pass (8,859 feet)
 is the highest road pass in 
Yellowstone National Park
, and because of this, it can get snow at any time of year- even summer.  It's always the first to close during a regional snow storm, and it is always the first road to close in the fall as Yellowstone Park winds down for the winter. 
In addition to being on top of the world, Mount Washburn in Yellowstone National Park is a great place to see grizzly bears, bighorn sheep, wildflowers, and a host of other amazing wildlife.
Grizzly bears are often seen on the slopes of Mount Washburn during the spring and early summer.
Aside from the magnificent views, the Washburn Area in Yellowstone National Park is also a popular place for grizzly bears.  Grizzlies love the Washburn Area, and you have a fairly good chance of seeing one of these giants from the road, especially in the spring when they leave their dens that are tucked along the slopes of Mount Washburn.  When driving between Tower Fall and Dunraven Pass, look out onto the slopes for grizzly bears, especially in the spring and early summer.  If you see a bunch of people looking at something, STOP and find out what they're looking at- it could be a grizzly.
In addition to grizzly bears, Mount Washburn is also home to bighorn sheep.  More specifically, bighorn ewes and lambs.  This is one of their spring and summer hangouts, and as you walk up the trail to Mount Washburn, you will most certainly see them.
Wildflowers
During certain times of the spring and summer, the slopes along Mount Washburn are covered with a huge variety of wildflowers.  If you hit it just right, and the conditions are good, you will be absolutely astounded at the colors that are surrounding you.  So if you love wildflowers, hopefully your timing will be good so you can experience this spectacle for yourself.
Wildflowers on Mount Washburn
Mount Washburn Hiking Trail
If you are willing and able, the Mount Washburn Trail is well worth the effort, because it takes you to the summit of Mount Washburn!  There are actually two trails to choose from, one from the north called Chittenden Road, and the other is from the south that begins on Dunraven Pass.  The distance to the summit from either trail is about 2 and a half miles, and the trails are very well maintained.  From the trail heads, the total vertical elevation gained is approximately 1,500 feet in only 2 and a half miles, so it's definitely a good work-out!
Bighorn sheep graze on the slopes of Mount Washburn with the
magnificent Beartooth Mountains of Montana in the distance

.
Chittenden Road Trailhead
This trailhead is found as you are approaching Mount Washburn from the north (from Tower).  You will see a large sign directing you to a parking lot.
This trail head is found directly on Dunraven Pass, which is a few miles to the south of the Chittenden Road Trailhead as you drive along the highway.
Distance:   
2.5 miles (one way)
Elevation Gain:  1,500 vertical feet
Elevation Loss:  10,243 feet
Which trail do we recommend?  It's impossible for us to say.  Both are beautiful, and both offer their own unique views.  We tend to see more bighorns on the Chittenden Road Trail, but the Dunraven Trail also offers it's own share of wildlife and views.  We've seen more grizzly bears from the Dunraven Trail.  Another thing worth mentioning is that the Chittenden "trail" is actually a road so it seems big and wide, whereas the Dunraven trail is a true trail.  But really, we've tried to pick our favorite between the two, and we simply can't.
Shannon looking at the Tetons far to the south from the observation deck.
Whichever trail you chose, it will take you to the top of Mount Washburn.  Once you reach the summit, you'll see a fire lookout tower.  Go ahead and walk up to the observation deck.  The view from this deck is glorious!  You can see the entire park and beyond from up there.  In fact, on a clear day you can easily see the peaks of Grand Teton National Park! 
Grizzly cubs nursing on the west slope of Mount Washburn.
Recommendations for Hiking the Mount Washburn Trail:
Bring Binoculars as well as your camera.
Bring a sack lunch to enjoy once you're at the summit.
Be prepared for all types of weather- even in the middle of summer.
Bring plenty of water.
Male grouse trying to impress the ladies.
Grizzly sow and two cubs crossing the road near Dunraven Pass.