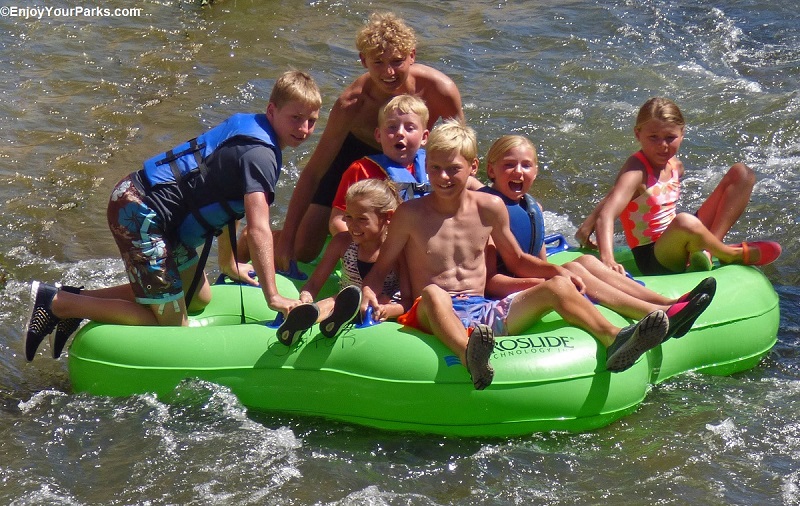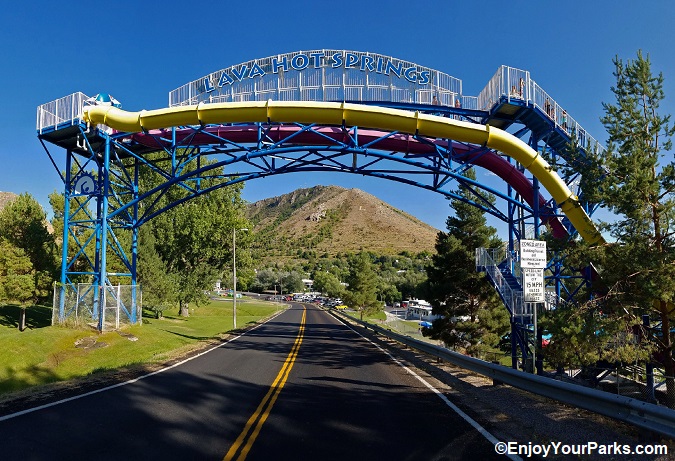 The west entrance to Lava Hot Springs, Idaho.
LAVA HOT SPRINGS: FUN, FUN, AND MORE FUN!
If you like crystal clear, odor-free mineral hot springs, a huge water park and a fun wild river to tube on, then Lava Hot Springs Idaho is exactly what you and your family are looking for.  Located only 35 miles from Pocatello, Idaho (11 miles east of I-15, exit at McCammon), Lava Hot Springs is a water lover's dream come true.  And not only are there fantastic water activities available, but there is also a host of restaurants, shops, hotels and motels found along the historic downtown, as well as a great selection of campgrounds on the outskirts of town.  We are serious when we say that if you love hot springs, water parks and tubing on a wildly fun river (Portneuf River),  you really need to spend some time at Lava Hot Springs during your next vacation in Southwest Idaho.
Downtown Lava Hot Springs looking east.... these tubes are for floating the Portneuf River thru the town.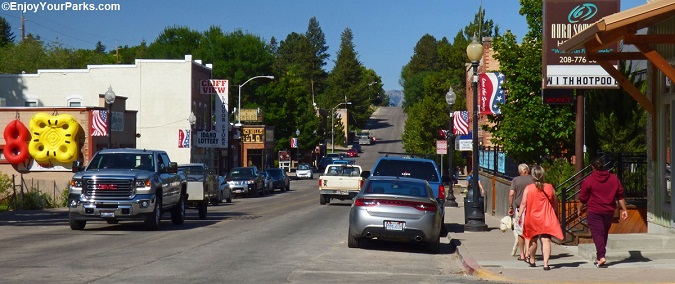 Another angle of Downtown Lava Hot Springs looking west.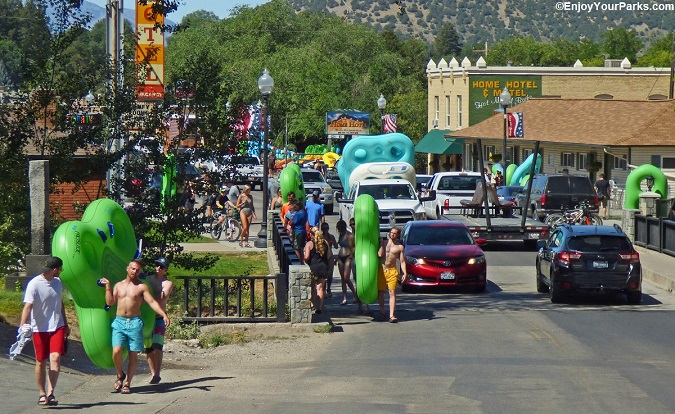 Tubers heading to float the Portneuf River through the town of Lava Hot Springs.

Beautiful garden along the main street of Lava Hot Springs that is open to the public.

The Visitor Center and Museum on mainstreet of Lava Hot Springs is where you need to start.
Brief History of Lava Hot Springs
The town of Lava Hot Springs is presently home to about 350 residents, but this area has been home to others for many centuries.  Geologically, there are many north and south running mountain ranges found throughout the Southwest Idaho Area that are divided by stream and river valleys.  These valleys became natural byways for travelers between the Great Basin and Columbia River Plateau for centuries, and in time the Portneuf River Valley  and Marsh Creek Valley became some of the most important natural byways in the Intermountain West.  Because of this, they've been called by many as the "Gateway to the Northwest".
Old photo of Lava Hot Springs (courtesy of Idaho Historical Society).
The Lava Hot Springs Area was used by the Northern Shoshone and Bannock Indian Tribes for hundreds of years, long before European immigrants arrived on the shores of America.  These tribes long ago discovered the hot springs at Lava Hot Springs, where they would gather to rest and bathe. The Northern Shoshone and Bannock tribes felt that these waters had special curative powers and actually considered this to be a "battle-free zone" so all the tribes in the area could enjoy these mineral hot springs.

This natural byway through the Portneuf River Valley where Lava Hot Springs is located, became not only an important corridor for Native Americans used during their annual migrations, but also eventually to fur trappers, stage lines, railroads and ultimately interstate highways.
About the Hot Springs Mineral Pools
The hot springs at Lava Hot Springs are full of wonderful minerals and yet are crystal clear and odor-free because there is no sulfur in the water.  These minerals include sodium, mangenese, calcium bicarbonate, sulfate, potassium, magnesium, iron, zinc and flouride.  There are several locations throughout the town of Lava Hot Springs that provide access to these amazing hot springs mineral waters.
Lava Hot Springs on the east end of main street.... one of five pools ranging from 102 to 112 degrees (F).
The two main hot spring establishments are found on each end of Main Street. Just as you enter the town of Lava Hot Springs to from the west is Lava Hot Springs Inn that provides several wonderful outdoor pools that are available to the public.  These historic pools and hotel have been servicing the Lava Hot Springs Area for nearly a hundred years, and is a popular establishment.  On the other end of Main Street is another Lava Hot Springs business that provides 5 pools, ranging from 102 to 112 degrees (F).  There are over 2.5 million gallons of hot mineral water running through the pools at Lava Hot Springs each and every day before it enters the Portneuf River, which keeps this water crystal clear and extremely clean no matter where you choose to soak in town.
The "cooler" (103 degrees F) of the five pools at Lava Hot Springs on the west end of main street.
The view from the pools at Lava Hot Springs is quite amazing.
This is the Lava Hot Springs pool that ranges from 106 to 110 degrees F.

Lava Hot Springs Olympic Pool Complex and Water Slides
Just as you enter Lava Hot Springs Idaho from the west on highway US 30 West, you can't help but see the Olympic-size pool and water slides to your right.  This magnificent Olympic Pool Complex is a dream come true for  kids of all ages who love to swim, dive off diving platforms and enjoy elaborate water slides.  There is also an Indoor Aquatic Center, locker rooms and showers, with lockers and bathing suits to rent.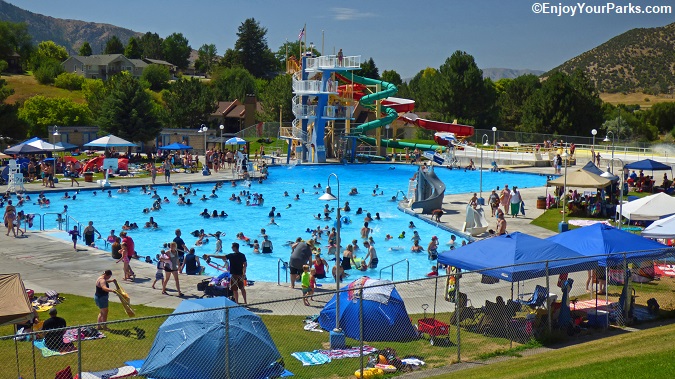 The Lava Hot Springs Olympic Pool Complex is an amazing water park that is a blast for all ages!

Swimmers in line above the main highway of Lava Hot Springs, standing in line for some exciting slides!

There's no shortage of slides and water at the water park at Lava Hot Springs Idaho.

The "Portneuf River Tubing Experience" is something you'll never forget.  It's an amazingly wild ride down the center of Lava Hot Springs with some pretty impressive rapids that will thrill everyone, scare some and even keep several from daring to even give it a try.  The entrance into the Portneuf River is clearly marked and maintained with a nice floating deck for your convenience. The river will then wind directly through the town of Lava Hot Springs, with FOUR WATERFALLS for tubers to contend with.  The largest waterfall is directly above the spot most people put in. The maintained trail forks here, where the left fork takes you a an entry point above the larger falls, and the right fork takes you to the floating platform below the falls.  There are signs everywhere that say these larger falls are not recommended, so we'll leave it at that... but all day long you can watch brave tubers take a chance on them.
Tubers enjoying a wild ride on the Portneuf River through the town of Lava Hot Springs.

Tubers just beginning their Portneuf River Adventure at Lava Hot Springs.
These are the falls that you're recommended not to float over (but a lot do anyway).

There are several tube rental businesses found throughout the town of Lava Hot Springs, and they really have it all down to a science.  When tubers reach the end of their wild float, there are trucks towing trailers that take the tubers and their tubes back up to the entrance point, where they jump in again and enjoy another wild ride.  This goes on all day long and is quite a site to see during a busy holiday weekend.  We don't know what's funner: actually floating the river on a tube, or watching the tubers float the river.  Bottom line, it's a sight you've probably never seen before or ever will again... especially during a busy weekend.  It's something everyone who loves water sports should experience.
This is the dock where your Portneuf River float through Lava Hot Springs begins.
Some folks start below the falls, and some start above the falls as this photo illustrates.
There's some fun rapids just before you go under a bridge on Lava Hot Springs' mainstreet!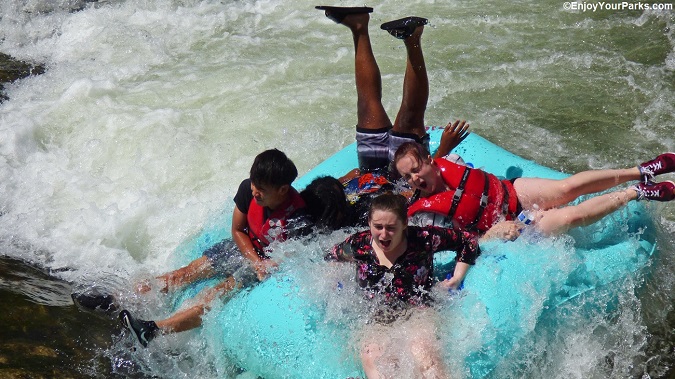 Tubers having the time of their lives.... probably.
The actual float down the Portneuf River at Lava Hot Springs takes about 20 minutes, and the tube businesses really have it down to a science.  Once a tuber reaches the end of his/her float at the west end of town by the Olympic pool and water park, there are trucks towing trailers that pick up tubers and their tubes ALL DAY LONG and take them back up to the entry point at the east side of Lava Hot Springs, where the tubers jump into the river again, and again, and again, and again.  Depending on how fast the water is flowing, each float takes about 15 to 20 minutes, and the trucks and trailers will quickly get the tubers back on the river as many times as possible in a given day.  Of course there are some risks involved, so please read the rules at your tube rental station.
This is one of the many trailers that take tubers back up to the beginning of the river run.  These trailers transport tubers all day long so they can keep having fun!
Tubers on their way for some more wild river action in Lava Hot Springs.
Additional Activities: It's All Here!
In addition to water sports, Lava Hot Springs Idaho provides a host of other activities designed to complete you Lava Hot Springs experience, such as wagon rides, outdoor cookouts, ziplines, massage therapy, spas, weddings, picnicking, camping, ATV trails, mountain biking trails, hiking trails, fishing, golfing and much more. During the winter, skiing, snowboarding, snowshoeing and snowmobiling are the popular activities during the day, and of course soaking in the hot springs at night is the perfect end of the day. Lava Hot Springs also offers bars, saloons, ice cream parlors, restaurants and fun gift shops.. all of which are available to make your stay here even more enjoyable.
There are over 10 hotels and motels in and around Lava Hot Springs, as well as over 10 campgrounds. Cabin rentals, vacation rentals and cottages are also available throughout the town... so you really have plenty of lodging options during your time at Lava Hot Springs....