Pictograph Cave State Park
(Pictograph Cave National Historic Landmark)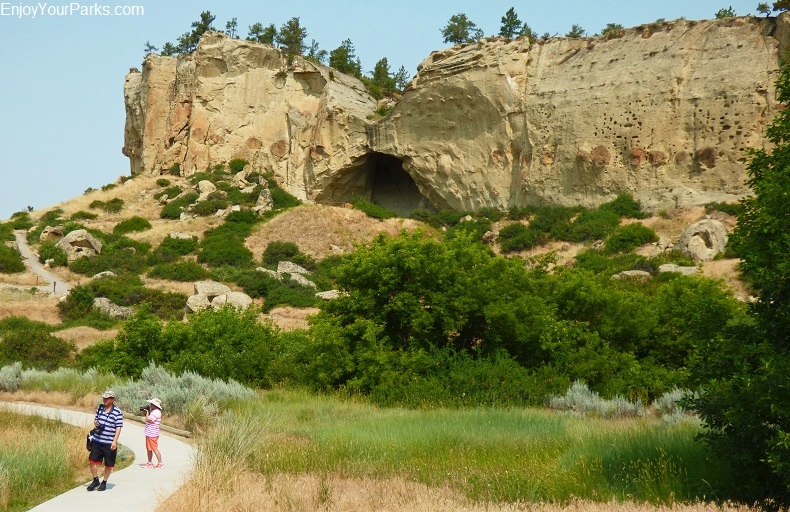 Pictograph Cave State Park, Montana
Pictograph Cave State Park
(Pictograph Cave National Historic Landmark)
A Glimpse Into Ancient Times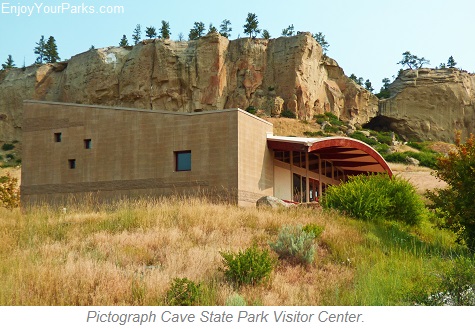 Pictograph Cave State Park and Pictograph Cave National Historic Landmark in Montana is home to ancient pictographs that are over 2,100 years old.
Their interpretations are still under tremendous debate, as well as the answer to the question, "just how long ago did humans begin inhabiting the land we now call Montana?"   Over 30,000 artifacts found on this historic site indicate that humans had been using this caves for nearly 9,000 years, which makes Pictograph Cave State Park an archaeologist's dream come true. Conveniently located just southeast of Billings off I-90, we highly recommend that you take the time to visit this fascinating 23 acre Montana State Park and National Historic Landmark if you are driving through the area during your Montana vacation.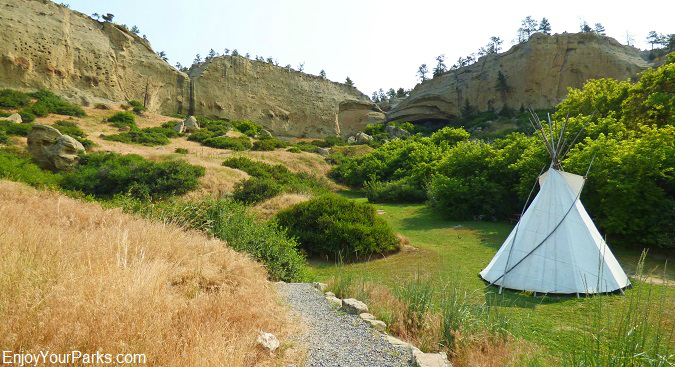 Pictograph Cave State Park, Montana.
These ancient pictographs and artifacts found at Pictograph Cave State Park were first studied by archaeologists in 1936, and approximately 30,000 artifacts have been found so far, which include weapons, stone tools and paintings. Experts feel that because of the red, white and black pigments used to make these pictographs indicated that the first people to utilize these caves were nomadic hunters. These ancient hunters used these caves for shelter, and created these timeless pictographs during their stay. For a very long time, this ancient cave complex has been an extremely important gathering place for American Indians, and is regarded still to this day as a site of great mystical power.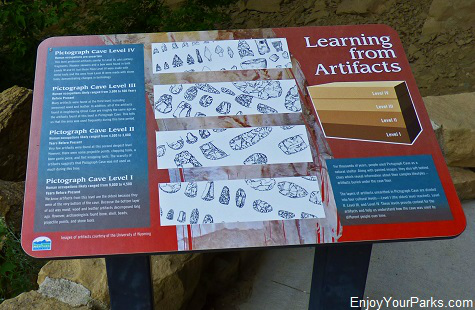 Between 1938 and 1941, archaeologists recovered over 30,000 artifacts, including barb harpoon points of the Eskimo culture that were made of caribou horn.  They also found items such as bone and stone tools, arrow shafts, moccasins, grinding stones, baskets, pendants, beads, bracelets, seashell jewelry from the
Pacific Coast Indians, and fire-starting tools. There were also nine ancient human graves found on the site.
20,000 animal remains were also found at this ancient site, including bison, elk, reptiles, amphibians and birds.  The presence of these animals are not only from human predation and consumption, but also from animals that simply lived in the area and eventually died in or around the site.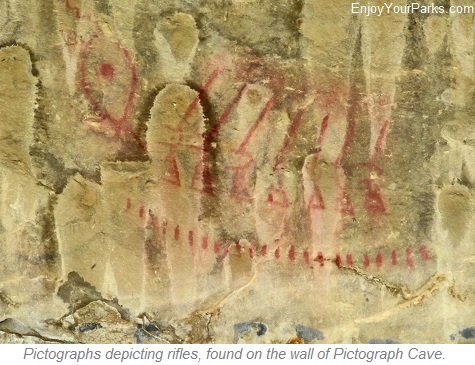 There are three main caves found at the site by the name of Pictograph, Ghost and Middle, which were all home to many generations of prehistoric people.
The pictograph images that still remain visible are found in Pictograph Cave, which is the largest of the three caves being 165 feet deep and 45 feet wide. There are 106 pictographs painted on the walls of this remarkable cave. These ancient pictographs (cave paintings) represent animals, hunters, warriors and rifles.
The age of the pictographs range from 2,100 years to approximately 200 years.
The oldest pictograph in Pictograph Cave is of a turtle, which was radio-carbon dated to be 2,100 years old.  Created by geologic erosion of the Eagle Sandstone by wind and water, these three caves are nestled in a sandstone bluff, and are all part of the 23 acre Pictograph Cave State Park and Pictograph Cave National Historic Landmark of Montana.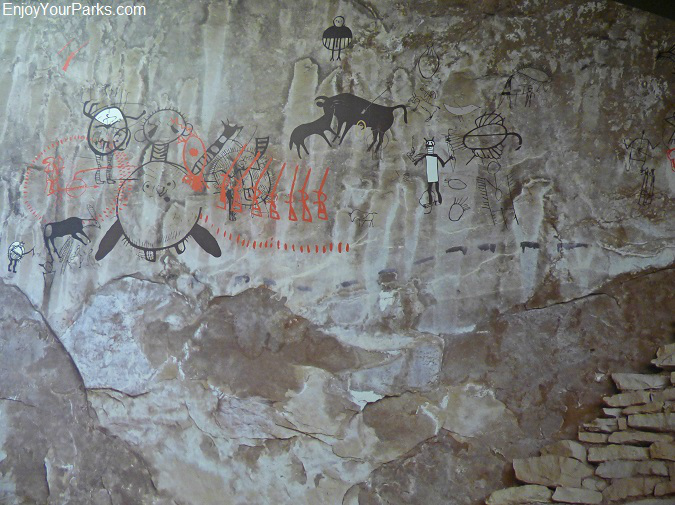 This is an image found at the visitor center showing visitors what the pictographs looked like when they were first painted on the walls of Pictograph Cave in Pictograph Cave State Park.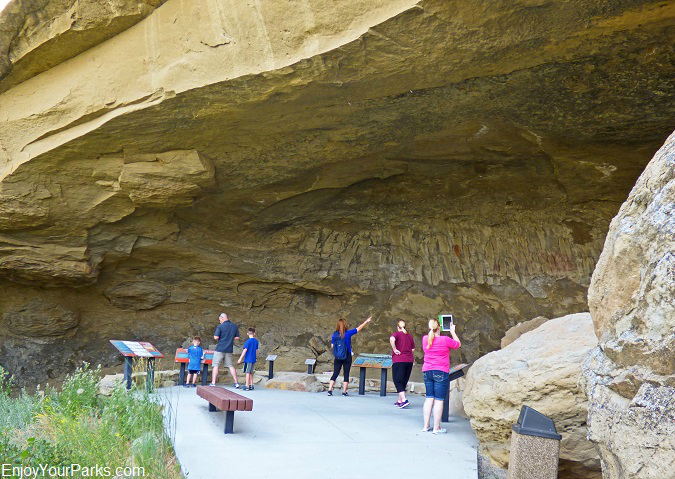 Visitors enjoying the pictographs that have been on the walls of Pictograph Cave for up to 2,100 years.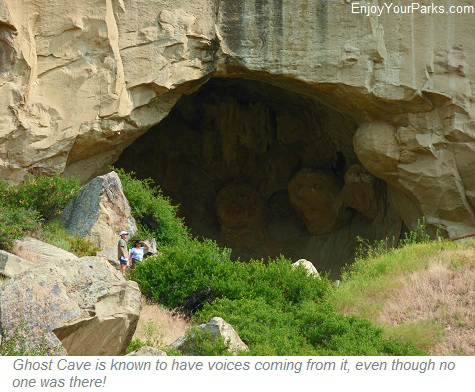 Before the excavations began in 1938, these caves were known as the "Indian Ghost Caves", and there were many shared stories of a number of supernatural events occurring here.
The earliest known name for the caves are from the Crow Indians....  "Alahpalaaxawaalaatuua", which means "Where There is Ghost Writing".

The Crow believed that in addition to humans,, spirits also painted on the walls of these caves, including souls of the dead.  Visitors have claimed to hear voices coming from Ghost Cave when no one was in it..... so when you're there, listen carefully and you may also hear the haunting voices from beyond.
There is a very nice trail system that takes visitors to the caves found throughout the Pictograph Cave State Park.  Pictograph Cave is the only cave that presently has pictographs on it's walls.... all 106 of them!
A view of Ghost Cave and Middle Cave from the trail leading to Pictograph Cave.
Ghost Cave in Pictograph Cave State Park, Montana.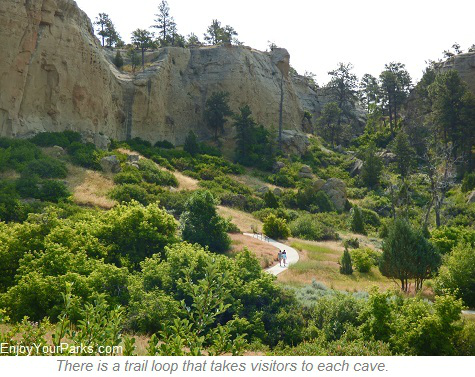 There is a nicely maintained paved 1/4 mile long trail loop that take visitors to Ghost Cave, Middle Cave and Pictograph Cave, with interpretive displays along the way.  We recommend that you allow yourself at least an hour or more on this trail system so you can take your time and thoroughly explore this ancient site.
This area is really fascinating and is also quite scenic, so you will find this walk along the cave trails to be very fascinating and enjoyable.... And here's a tip: Bring binoculars to not only better enjoy the wildlife in the area, but also to better see the paintings on the cave walls.
Additional Details About Pictograph Cave State Park
Located just southeast of Billings, Montana, just off I-90, Pictograph Cave State Park and Pictograph Cave National Historic Landmark is found on Coburn Road, about 6 miles south of the Lockwood Exit.  There is an interesting Visitor Center on the premises, as well as a picnic area with grills and fire rings, restrooms, drinking water and paved parking.  Please keep in mind there is no overnight camping at the park.