The Story of William & Clara Dalton, and their daughter Matilda Dalton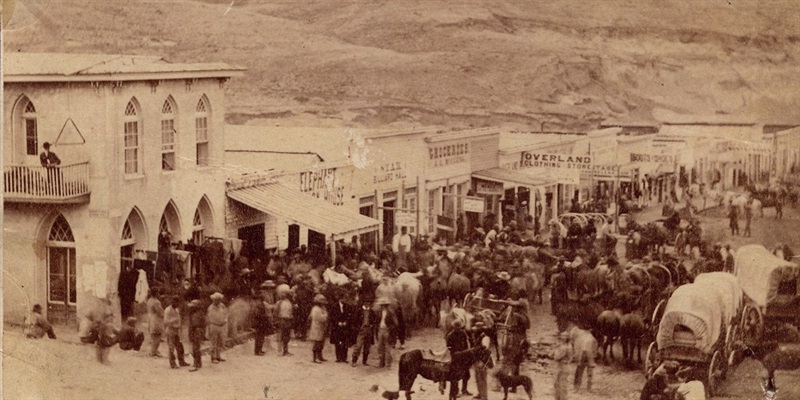 Virginia City Montana in the early 1860's.
The Story of William & Clara Dalton, and their daughter Matilda Dalton
My name is David Biegel of EnjoyYourParks.com, and this is the story of my family, beginning with my great great great grandparents, William and Clara Dalton and their daughter Matilda Dalton.  Both William and Clara were born and raised in Maine, and were among the earliest pioneers to reach the Montana mining camps of Bannack and Virginia City.  In 1862, William and Clara along with their 4 young children, signed on with the First Fisk Wagon Expedition at St. Cloud, Minnesota, and headed to the new mining camp of Bannack, Montana.  Led by Captain James L. Fisk, this historic expedition crossed through untamed lands and hostile Indian country to reach the new gold rush town of Bannack Montana, via Fort Benton and Prickly Pear.  In December of 1862, the Daltons reached Bannack, Montana, where gold had been discovered just 5 months earlier along Grasshopper Creek.  One year later, in 1863, the Daltons moved to Virginia City where gold had just been discovered in Alder Gulch.  The Daltons were a part of the history of Montana during its infancy.  Their dream of a better life, and their bravery as pioneers, helped lay the bedrock on which the state of Montana was built. This is their story...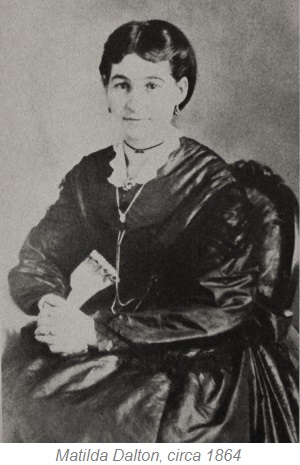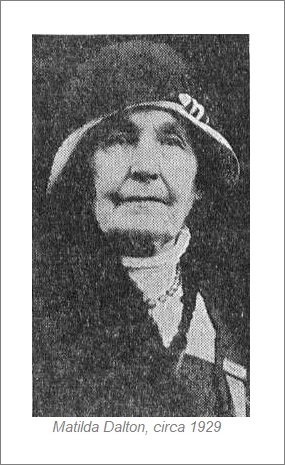 The Early Years In Maine: War of 1812
William Dalton was born in 1797 in the town of Canaan, Maine. The United States was only 21 years old.  Because Maine had not achieved statehood until 1820, Canaan would have been part of Massachusetts at the time of William's birth.  Upon his 18th birthday, in April of 1814, William Dalton enlisted in the 21st Infantry during the War of 1812.  He served for 13 months until May of 1815.  William was part of what was known as "The Niagara Campaign" under General Scott, which likely placed him at the Battle of Lundy's Lane, Battle of Chippewa and the Battle of Fort Erie.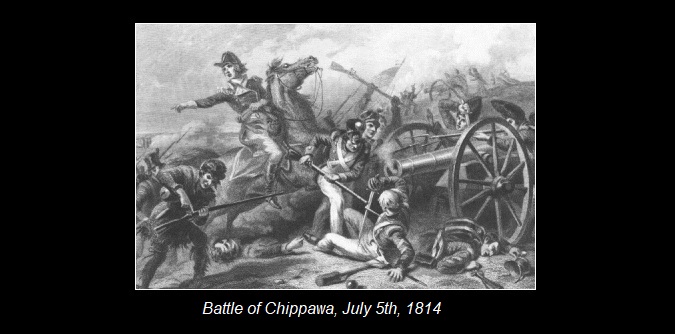 After the War of 1812: Forging A New Life
Following William Dalton's military discharge, he married Mirium Fairchild (Clark) in the town of Harlem, which is present day China, Maine.  They had several children.  William then tried his hand at lumbering around 1820, however was unsuccessful and fell into substantial debt.  He then moved slightly west into the area near Castle Hill, Maine, along the Aroostook River in 1824, while his family stayed in China, Maine. During this time there were only a handful of settlers in the area, and the land was disputed between Britan and the United States, with the Northeast Boundary not yet agreed upon.  The British felt these settlers were in their territory and "stealing" their lumber and other natural resources.  A deposition is on record in Bangor, Maine, dated 1827, outlining this period of William Dalton's life.
William Dalton then returned to China, Maine and once again joined his wife Mirium and their children.  He then purchased 160 acres of land for $120 dollars in today's Ludlow area.  On an 1830 census, in addition to William and his wife, there were 3 boys and 2 girls living in the same household on their Ludlow farm.
First Settlers In Untamed Northern Maine
In 1835, William Dalton and his family then moved north into unsettled lands, but held on to the Ludlow farm.  It is believed that his oldest son ran the Ludlow Farm during his absence.  William was the first European settler in this wild unsettled land in Northern Maine, which is today's Ashland area.  William and his family lived in this untamed land for an entire year as the only European white residents.  He both farmed on this new Ashland farm and was also a wood runner, and apparently became quite successful.  Other pioneers then moved into the area, including Thomas Neal, who married William Dalton's oldest daughter Olive.  (They would later follow William to Wisconsin in the 1840s and instead of joining them on the First Fisk Expedition to Montana, they moved to Kansas where they both died two years later.)
Mirium Dalton died in 1838 of unknown causes according to the local history books, and her grave is likely unmarked on the Ashland Farm (northern Maine) where the Big Machias River and the Aroostook Rivers meet near Ashland.  William then married Clarissa (Clara) Bradley in Lincoln, Maine one year later.  Clara was born in 1811, and was the daughter of Captain Bradley. Clara appeared on an 1840 census, along with 5 boys and 4 girls, who were all from the previous marriage with Mirium.  Serena, one of the oldest girls, married John Mills in 1842. Olive and Thomas Neal were also on this census.
Back to the Ludlow Farm, Then Onto Wisconsin
In 1841, William and Clara Dalton began to sell off the Ashland farm in the north country and moved back to the Ludlow Farm.  Their first child together, Mary,  was born the same year.  And just before Matilda Desmon Dalton was born in 1843 in Holton, Maine, William Dalton would declare bankruptcy.  He then packed up the family and moved to Portage City, Wisconsin.  1850 documents at Fort Winnebago show that William amd Clara, as well as their daughters Susan Dalton (age 18), Sarah Dalton (age 15), Charles Dalton (age 13), Mary Dalton (age 9), Matilda Dalton (age 7), Alvin Dalton (age 5) and Orrin Dalton (age 3) were present.  Susan, Sarah, Charles and Mary are all from William's marriage to his late wife Mirium, and Matilda, Alvin and Orrin were from William's marriage to Clara.
The California Trail, Then Back to Wisconsin
In the early 1851, William embarked alone on the California Trail, leaving his family safely behind in Wisconsin.  He spent several years in California in search of a means to make a living for his family. It is assumed that because William journeyed to California less than 2 years after the initial gold strike of the 1949 California Gold Rush, that he was hoping to strike it rich in the California gold fields. Whatever the case, William Dalton returned in 1853 apparently unsuccessful in his pursuits.  In 1856, William Dalton received a land grant of 160 acres for his service during the War of 1812 and 1814, which was located near Portage City, Wisconsin, where they lived until Matilda was 14 years old.  A few miles away lived the Plummer Family, also from Maine, which included young Henry Plummer who you will here about later.  The Plummers and Daltons were neighbors and friends.  During this same time, there was a devastating grasshopper plague in the Midwest, which likely negatively affected the Portage City farm, because they abruptly left Portage City and embarked on yet another pioneering adventure...
First Fisk Wagon Expedition (1862): The Montana Gold Rush
The Dalton Family left the Portage City farm and moved to St. Cloud Minnesota in 1861.  In 1862, William (age 65) and his wife Clara (age 51), along with their children Matilda (age 18), Alvin (age 16), Orrin (age 13) and Margaret (age 3), joined the First Fisk Wagon Expedition, led by Captain James L. Fisk. No children from William's first marriage to Mirium Dalton joined them. This famous expedition led brave pioneers through the wild, untamed land of what is now North Dakota and Montana, where the Indians were very hostile toward settlers during that time.  Just a few months earlier, gold was first discovered on Grasshopper Creek in southwest Montana. The mining camp of Bannack, Montana sprung up along the bank of Grasshopper Creek overnight.  The Montana Gold Rush was officially on, and the Daltons were among the earliest pioneers to arrive at the scene.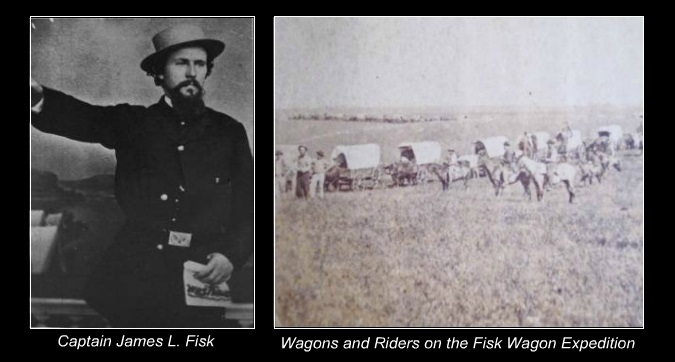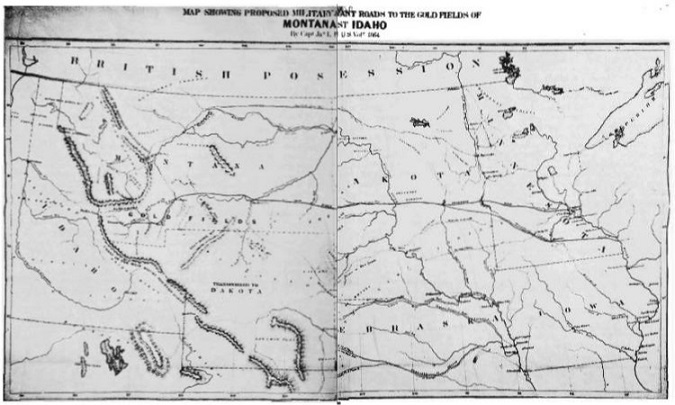 This is a map drawn up by Captain James L. Fisk of his proposed routes into the gold fields of Montana.
The First Fisk Wagon Expedition Reaches Fort Abercrombie

The First Fisk Wagon Expedition set out from St. Paul on June 16, 1862, and celebrated the 4th of July at Fort Abercrombie, which was located along the banks of the Red River in today's eastern North Dakota.  According to Fort Abercrombie records, the First Fisk Expedition contained a total of 117 men, 13 women, 53 wagons, 168 oxen, 17 cows, 13 saddle horses, 14 team horses and 8 mules upon reaching Fort Abercrombie.

Upon entering Fort Abercrombie, all of the expedition members were required to sign in at the Fort Abercrombie Guardhouse. This guardhouse is the only original building still standing at the present day Fort Abercrombie State Park in North Dakota, and is the exact place where every person on the First Fisk Wagon Expedition had to step into to sign the register.  Therefore, this spot is the only place on earth where I know exactly where my ancestors once stood.  During my visit to Fort Abercrombie in 2015, I stepped into this historic one room log building, and stood exactly where the Daltons had stood into 1862. This was a very stirring moment to say the least.
The helpful and knowledgeable staff of Fort Abercrombie State Park showed me the 1862 register where William (age 65), Clara (age 51), Matilda (age 18), Alvin (age 16), Orrin (age 13) and Margaret (age 3), were all listed as members of the Dalton Family.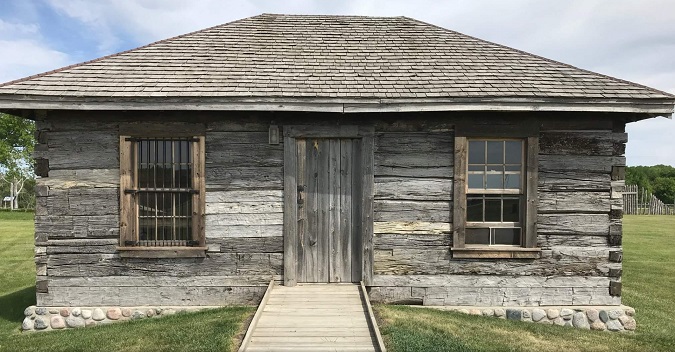 This is the Fort Abercrombie Guardhouse where the expedition members, including the Daltons, were required to sign the fort register on July 4th, 1862.  I followed their exact footsteps into this building during the summer of 2015.
According to the Fort Abercrombie State Park staff, Captain Fisk borrowed a cannon from Fort Abercrombie, and Matilda Dalton recalled that Captain Fisk indeed used this cannon to ward off hostile Indians during their trek across uncharted country on their way to Fort Benton, Montana.
William described himself as a "farmer" on the Fort Abercrombie register. It is not known what type of work William did at the gold rush towns of Bannack and Virginia City, but one can speculate he was a prospector since he was not likely a merchant.  And keep in mind he was not a young man at the age of 65.
On To Fort Benton, Then Finally To Bannack
The First Fisk Wagon Expedition then entered Fort Union on August 9, 1862, which was located near the border of Montana and North Dakota.  One month later they reached Fort Benton Montana, on September 5, 1862, where Captain Fisk's obligation to the U.S. Government who funded the expedition was now complete.  Captain Fisk was then instructed to sell the equipment at Walla Walla, so he then unofficially accompanied the emigrants to Walla Walla, which ended up being only a fraction of the original party.  82 members split off the First Fisk Wagon Expedition at Fort Benton and headed for Prickly Pear Creek, Montana.  Some stayed there to prospect for gold, whereas the rest of the party continued onward to Bannack, where the action was.  This small group of pioneers included Nathaniel P. Langford (future head of the Montana Vigilantes and Yellowstone Park's first superintendent), and the Dalton Family.  They reached Bannack on a cold day in December, 1862, just months after gold was discovered at Bannack, Montana along Grasshopper Creek on July 28, 1862. The Daltons lived in Bannack for approximately one year.
Bannack Montana was exactly what you would picture a brand new Old West gold rush town to be like, with canvas tents everywhere, and new buildings being built everyday along the main street as businesses were popping up everywhere, such as saloons, stables, general stores and inns. There were miners, merchants, missionaries, blacksmiths, innkeepers, gamblers, ladies of the night, gunfighters, and of course robbers, thieves and murderers.  Hardly a place for a family with young children to call home, but the Daltons endured and made the best of it.
Freemasons and the First Fisk Wagon Expedition
Another interesting note is that according to the staff at Fort Abercrombie, there were three Freemasons on the First Fisk Expedition.  One of these Masons was Nathaniel P. Langford, who later led expeditions into Yellowstone Park and became Yellowstone Park's first superintendent in 1877.  Nathanial P. Langford was also instrumental in the formation of the Montana Vigilantes in Virginia City in 1863.  The other Freemasons on record were George Charlton and George Gere.  It was those three men of the First Fisk Wagon Expedition, that held the first official Masonic meeting in the Territory of Montana where the expedition camped along the Mullan Road at Mullan Pass on September 23, 1862.  In December, they then finally reached Bannack, Montana.
According to Matilda Dalton, her father William Dalton was also a Freemason.  In fact, William's funeral in Virginia City in January of 1864, was the second Masonic funeral in the Montana Territory.  It is not known whether William became a Freemason at Bannack or Virginia City, or he was a Freemason prior to joining the First Fisk Expedition, but he was indeed a Freemason prior to his death. The first Masonic funeral in the Territory of Montana was that of William H. Bell, who died in the fall of 1862 in Bannack Montana of "mountain fever".
On To Virginia City
In May of 1863, gold was struck at Alder Gulch, about 80 miles east of Bannack.  This discovery changed the course of history not only for Montana, but also for the Daltons.  As did many of the residents of Bannack, the Daltons "followed the gold" and quickly moved to Alder Gulch, where the brand new mining camp by the name of Virginia City awaited them.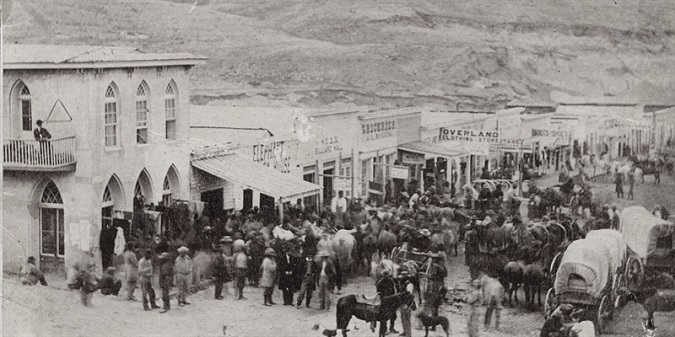 History was unfolding, but of course no one at the time was aware of it or even thought about it. They were simply chasing their dreams for a better life.  And as one might expect, Virginia City immediately became a classic Old West gold rush town just as Bannack did, with all that comes with that:  miners, merchants, blacksmiths, missionaries, gamblers, gunfighters, claim jumpers, ladies of the night... and of course murderers and thieves. Gunfights were a daily occurrence in the middle of main street, and thieves were busy robbing and killing innocent people of their gold.
Sheriff Henry Plummer and "The Innocents"
The acting sheriff of Virginia City was reportedly very meek, quiet and ineffective in curbing the lawlessness. Then in May of 1863, a charming, well-refined 27 year old New England man glowing with charisma by the name of Henry Plummer, road into Virginia City via California, and quickly stepped in as the new sheriff of Virginia City.  Soon after Henry Plummer became sheriff, the town of Virginia City as well as the stagecoach road between Virginia City and Bannack, became terrorized by a ruthless gang of road agents who called themselves "The Innocents".  They were responsible for over 100 murders in a single year (1863) as they robbed people of their gold.
William Dalton's Encounter With Henry Plummer on Virginia City's Main Street
Matilda Dalton recalls that her father William was walking across the street of Virginia City in the fall of 1863, and encountered Sheriff Henry Plummer.  William and his family lived next to the Plummer Farm near Portage City, Wisconsin for 8 years and were not only neighbors but were also friends of the Plummer Family. Henry was just a boy at the time and William remembered him well.  On the mainstreet of Virginia City, William spoke to Plummer and talked of their neighboring family farms near Portage City, Wisconsin. Plummer immediately denied knowing William and claimed he had never lived in Wisconsin.  Matilda recalled that at dinner that night, her father William told the family that he was completely puzzled why Plummer denied knowing him and why he claimed he'd never lived in Wisconsin.  William was 100% positive this was the Henry Plummer from Portage City.  It was later discovered that William was correct...
Vigilante Justice
The Vigilantes of Virginia City and Bannack swiftly put an end to the lawlessness by taking the law into their own hands.  After over 100 people had been robbed and murdered in during the last year, Nathanial P. Langford and a host of other Freemasons, secretly formed what was known as "The Vigilance Committee" in Virginia City.  On December 22, 1863, these Freemasons took a formal oath, and began "cleaning up"the town.  (It is not known if William Dalton was a member of the Vigilance Committee, as he was indeed a Freemason by this time.)  In just the first two months following taking this oath, the Vigilance Committee hanged 24 men.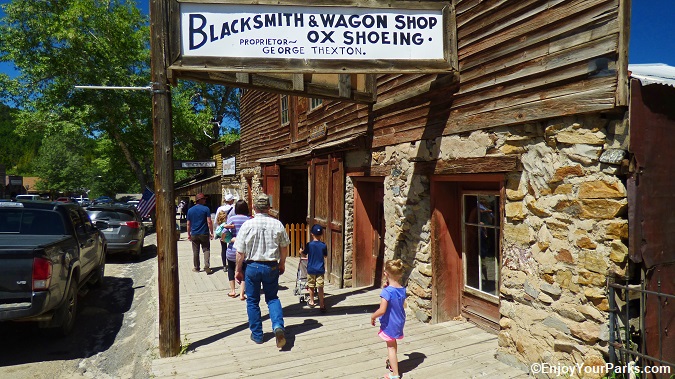 This wagon and blacksmith shop was where the Vigilantes would hold their secret meetings in 1863 and 1864 on the main street of Virginia City.  This building still stands today.
Soon after William Dalton spoke with Plummer on the main street of Virginia City in the late fall of 1863, where Plummer denied knowing William and denied ever living in Wisconsin, it was discovered that Henry Plummer was not the "good sheriff" everyone thought he was.  Several days before the January 13, 1864 hanging of Frank Parish, Boone Helm, Jack Gallagher, Haze Lyons and George Lane (Clubfoot George) on the main street of Virginia City in an unfinished, open-beamed building, the Montana Vigilantes hit "pay dirt".
While sitting in a jail cell, Clubfoot George ratted out his accomplices with the hope of avoiding being hanged. Clubfoot George's accomplices then ratted out Henry Plummer as the secret leader of "The Innocents".  Plummer and his deputies were quickly arrested and hanged on January 10, 1864 in Bannack, on the gallows that Henry Plummer himself ordered to be built prior to being caught. (By the way, of all the road agents who were hanged in Virginia City and Bannack, it was reported that Plummer was the only man who cried and begged for his life.) It was also learned that Plummer was wanted for the murder of his business partner John Vedder in California years earlier and was hiding from his past in the Territory of Montana.  Following these January hangings, the rest of the road agents who didn't die at the end of a rope, fled the area, never to be seen or heard from again.
This is the building where Frank Parish, Boone Helm, Jack Gallagher, Haze Lyons and George Lane (Clubfoot George) were hanged on January 13, 1864. This building, known as "The Hangman's Building", still stands on the main street of Virginia City, and the rope marks on the support beam from which they were hanged are still visible.
Henry Plummer, the sheriff of Virginia City, and the secret leader of the road agent gang known as "The Innocents".
Typhoid Fever Outbreak: The Deaths of William and Clara Dalton
During the exact same time as the January 1864 hangings, Matilda at the age of 19, contracted typhoid fever as did many of the residents of the Virginia City gold camp.  Many people died, but Matilda survived.  William and Clara cared for Matilda during her illness, where they both contracted typhoid fever and died within 2 weeks of each other in January of 1864.  They were buried beside each other in the Virginia City cemetery that was located on a hill directly above the town.  As earlier stated, according to Matilda Dalton, William Dalton's funeral was the second Masonic funeral in the Territory of Montana. The first Masonic funeral was that of William H. Bell, who died in the fall of 1862 in Bannack Montana of "mountain fever", which was actually typhoid fever.
Road Agents and Boot Hill
Days after William and Clara's death, following the hanging Helm, Lane, Gallagher, Parrish and Lyon in that unfinished building on the main street of Virginia City on January 13, 1864, the Vigilantes buried these road agents in unmarked graves in the Virginia City Cemetery with their boots on, right next to Clara and William Dalton's graves.
The Boot Hill grave markers of the 5 road agents who were hanged on January 13,1864 on the main street of Virginia City. Their names are Frank Parish, Boone Helm, Jack Gallagher, Haze Lyons and George Lane, a.k.a. Clubfoot George. The Daltons' graves are located just to the left of these road agents' graves. 
Several years later, the residents of Virginia City felt that they did not want their relatives buried next to notorious Road Agents, so they moved their relatives' graves to another location above Virginia City.  The only residents left behind were William and Clara Dalton, because there were no family members present to move their grave site.  So for over 110+ years, William and Clara Dalton laid next to the Road Agents graves on what became known as "Boot Hill".
For many years, most visitors to Boot Hill did not know why the Daltons were buried along side murderers.  Most visitors simply assumed that the Daltons were road agents just like the others buried there.  This bothered my Mother, Doris Jeanne Thibadeau Biegel and her sister Noreen Thibadeau Swanz (Matilda Dalton's great granddaughters) to no end.  So my mother and aunt, both of Harlowton Montana, contacted the Montana Historical Society, and together erected an interpretive sign explaining the Daltons' story. 
Grave site of William and Clara Dalton on Boot Hill in Virginia City Montana, with the interpretive sign telling their story.  David's mother and aunt were an integral part of getting this sign erected.
Interpretive sign by William and Clara Dalton's grave telling their story.
This all happened in the late 1970's, and my mother and aunt were very proud of being an integral part of this project. Both my mother Doris Jeanne Thibadeau Biegel and my aunt Noreen Thibadeau Swanz (who have both since passed) are official members of "Sons and Daughters of Montana Pioneers", and were extremely proud of her deep Montana pioneer heritage to the day they died.  Below is my mother's certificate....
My mother's Certificate of Membership of the Sons and Daughters of Montana Pioneers.

William and Clara's gravesite on Boot Hill, overlooking Virginia City.
Matilda Marries Count Zebulon Bonaparte Thibadeau
Following the death of William and Clara Dalton in January of 1864, Matilda was left with three younger siblings to care for, which was a near impossible task for a young 19 year old girl in a wild gold rush town.  However Matilda was not just any 19 year old girl.  According to documents gathered by Mable Ovitt, historian and author of Golden Treasure, which is a highly regarded history book on the early days of Bannack and Virginia City, it was learned that Matilda Dalton was "drop-dead gorgeous" and was known throughout the town of Virginia City as "Desdemona".  She was not only one of the few available girls in town, she was by all accounts the prettiest. In fact, many years later Matilda spoke briefly of what it was like being a young attractive single girl in the Wild West town of Virginia City. She recalled that one of the men interested in courting her ended up shooting himself in the head because she refused to date him.
With this being said, shortly after the death of her parents, in 1864, she had her pick of gentlemen and decided to marry Count Zebulon Bonaparte Thibadeau.  They were wed on April 14, 1864 in Virginia City.  Together they cared for Matilda's 3 young siblings. (According to Montana Historical Society documents, it seems that other youngsters were not as lucky during these early days in Virginia City.  For example, there were three very young girls who lost their mother due to typhoid, and their father essentially lived in saloons, so they were forced to beg for food on the street.  Martha Jane Canary, better known as "Calamity Jane", was one of those girls.)
Brief History of Count Zebulon Bonaparte Thibadeau
Count Zebulon Bonaparte Thibadeau was born in Maine in 1836.  His father was Count Antone Clare Thibadeau, one of Napolean Bonaparte's advisors in France.  During the French Revolution, Napolean Bonaparte's brother and Count Antone Clare Thibadeau fled France together to to avoid the guillotine, and landed in New Orleans in the 1790s. This is where and how the Thibadeau lineage started in America.
After Virginia City
Matilda and Count Zebulon Bonaparte Thibadeau left Virginia City and moved to Oshkosh Wisconsin, where they owned a store and had three children of their own by the names of William Wallace (02/26/1865 to 08/08/1933), Matilda Estelle (04/17/1867 to 11/23/1955) and Helena Francis (11/10/1869 to 05/03/1957).  William Wallace is my Great Grandfather.  His son Clarence Thibadeau is my grandfather.  Clarence married Thelma Kelly (my grandmother) and had two children, Doris Jeanne and Noreen, who are my mother and aunt.  My mother married Oscar Biegel of Harlowton Montana, and had five children, including myself (David).  Matilda died in 1931 and was laid to rest in Dillon, Montana.  Matilda's husband Count Zebulon Thibadeau passed away in Idaho in 1894 at Wallace, Idaho after owning a business for many years running pack trains between Idaho and Montana.
1928 Thibadeau Family Reunion
A few years before Matilda died there was a Thibadeau Family Reunion in Sheridan Montana in 1928, just down the road from Virginia City.  Among those who attended included Matilda Dalton (age 85), her son William Wallace, her grandson Clarence Thibadeau and his wife Thelma (my grandparents). The youngest in attendance was my grandparents Clarence and Thelma's daughter, Doris Jeanne at the age of one.  A photograph was taken of Matilda, her grandson Clarence  (my grandfather) with his one year old baby girl in his arms, who is my mother Doris Jeanne Thibadeau. Below is this photograph...
Clarence Byron Thibadeau, my grandfather and the son of William Wallace Thibadeau and grandson of Matilda Dalton Thibadeau, was raised on a farm near Dillon Montana, He married my grandmother, Thelma Marie Kelly and had two daughters, Doris Jeanne and Noreen.  Clarence became a railroad detective between Anaconda and Butte Montana during the wild mining years. He then was part of the first graduating class of the Montana Highway Patrol. Interestingly, the numbers 3-7-77 that is found on each Montana Highway Patrolman's badge even today, was the  cryptic numbers used by the Vigilantes during the "clean up" of Virginia City and Bannack in 1864. As a Highway Patrolman in Deer Lodge Montana, he and his family was transferred to the railroad town of Harlowton, Montana, where my father Oscar H. Biegel met my mother during their 8th grade year in 1941.  Clarence died of lung cancer at the age of 60 with his family by his side, and my grandmother, known to all of us as "Grandma Thib", died in June of 1983 due to respiratory complications following a devastating house fire.  Clarence and Thelma are buried beside one another in the Harlowton Cemetery.
Matilda Dalton's Own Words...
Shortly before her death in 1931, Matilda Dalton described the life of her parents William and Clara Dalton, as well as her own.  Matilda dictated this story to Bertha Thibadeau in Dillon Montana.  Bertha Thibadeau was Matilda's son William Wallace's wife.  These words were first published in the Philipsburg Mail newspaper in 1935, and then also appeared in the highly regarded history book "Golden Treasure" by Mable Ovitt.  The following are Matilda Dalton's own words...
"I, Matilda Dalton, was born at Holton, Main, August 28, 1843.  My father, William Dalton, lived on a farm three or four miles from Holton.
About 1844 or 1845, William Dalton moved his family to Wisconsin, where he took up land by Homestead and Government Land Warrant, which was received from the government in return for services in the War of 1812 and 1814 with England, which land was situated on the Wisconsin River five miles from Portage City.  Here the family lived until I was 14 years old.
Within a few miles of the Dalton's lived Ed and Rial Plummer brothers, with their families, also from Maine.  Among the children of Rial Plummer was Henry Amos, his oldest son, and Rosie and Parnelia, two younger girls.
In 1851, William Dalton went to California, returning in 1853.
In 1850, Henry Plummer went to California, where he went into the restaurant business.  His partner in the restaurant business was a married man, and over this man's wife Plummer and his partner quarreled, Plummer shooting and killing his partner.  After the shooting Plummer left, and went somewhere in what is now the state of Washington, probably in the vicinity of Walla Walla.  When my father saw him in Virginia City he knew Plummer and spoke to him, but Plummer told father he must be mistaken.  Father told him about Wisconsin, but he said he had never been in Wisconsin.  It was impossible that my father could have been mistaken, since he had known him from boyhood days.
We left Wisconsin in 1861 and moved to St. Cloud, Minnesota. From this point we joined Captain Fisk's train in 1862.  There were from 150 to 200 people in this train.  Captain Fisk was a big man, 35 or 40 years old.  During our trip the Indians rode up and tried to stampede the horses and cattle.  Captain Fisk turned out all of the escort, and they got out the cannon and showed the Indians what a cannon could do.
Among those in Captain Fisk's train was a man named Fergus (James Fergus), Samuel Bond, secretary of the escort; Mr. Knox, wagon master; Henry Tyler, James Marston, Col. Bartlett, J.M. Castner and family; and Mr. And Mrs. James Stark, to whom was born on this trip a baby boy, who was called Julian.  The last we knew of the Stark's they lived at Twin Bridges.  Mrs. Stark's sister, Carrie Abbott, was married on the plains to Henry Taylor, by our Epicsopal minister, a Mr. Langford.
Near Fort Benton we met William Babcock, who had been lying in wait to steal back from the Indians his horses which they had taken.  Between Fort Benton and Prickly Pear he had stolen back his horses and caught up with the train.  He was in an expedition hunting some children whose father and mother were killed by Indians.  Mr. Babcock came from Walla Walla hunting these children, and finally found one, a little girl.
We arrived that fall at Prickly Pear, then went to Bannack City.  We arrived  during December, 1862.  We lived there a year or so, then went to Virginia City where father and mother took the fever and died within two weeks of eachother.  This was January 1864, and they were attended by Drs. Smith and Glick.  Father was a Mason and his funeral was  the second Masonic funeral to be held in what is now the state of Montana.
In 1864 I married Z.B. Thibadeau.  We returned to Oshkosh, Wis.,  and lived there 10 years, my three children being born there:  a son, William Wallace, two daughters, Estelle M. And Helena F.  Later we came to Idaho where Mr. Thibadeau died in Wallace, Idaho on June 8, 1894.
I attended the Montana Pioneers' reunion in 1918 for the first time, but saw no persons who came out in Capt. Fisk's first train except Col. Bartlett."
Matilda Desmon Dalton attended several other Montana Pioneers' reunions, and died on December 6, 1931 in Coeur d'Alene, Idaho and was buried in Dillon, Montana at the age of 88. 
"Golden Treasure" by Mable Ovitt is a wonderful history book about the early days of Bannack and Virginia City. Born in Bannack, Mable Ovitt (01/16/1896 to 08/02/1968) was among the last residents to ever live in Bannack Montana before it became a state park. The Daltons are written about several times throughout the book. In fact, she ended her book with Matilda Dalton's story. Mable Ovitt is buried in the Bannack Cemetery, with the words "Our Golden Treasure" written on her headstone.
The "Adventures" Continued...
The "adventures" did not end with the Daltons, but continued on through the generations. For example, my mother Doris Jeanne Thibadeau (06/19/1927 to 10/07/2007) contracted polio at the age of 13 just two months after her father Clarence Byron Thibadeau, a Montana Highway Patrolman, was transferred from Deer Lodge to Harlowton in 1940.  She contracted polio by swimming in the local swimming hole. For over a year she was completely paralyzed from the neck down, as she watched many children inflicted with polio on the same floor of her Billings Montana hospital succumb to this dreadful disease. This all occurred during the devastating nationwide polio epidemic of the 1940's.  Through the outstanding care provided by the doctors and nurses of St. Vincent Hospital in Billings, Montana, my mother not only survived polio, but lived a long, wonderful and fulfilling life.
Upon returning to Harlowton following her nearly 2 year hospital ordeal fighting and surviving the ravages of polio, my mother showed up to school wearing metal braces from her neck to her feet. One of her 8th grade classmates was a boy named Oscar. Oscar didn't notice the metal braces but instead saw a beautiful brown-eyed girl who he instantly fell in love with. They became high school sweethearts and were later married after Oscar served in the Korean War.  This young man by the name of Oscar, was my father Oscar Herman Biegel.  And even though the doctors told my mother that she would not survive child birth due to the effects of polio, she ignored their orders and gave birth to not one child, but eventually gave birth to five healthy children.
My mother Doris Jeanne Thibadeau Biegel was a fighter in every sense of the word, just as William and Clara were... just as Matilda Dalton and her husband Zebulon Thibadeau were. I feel very blessed to be in a family of such brave people, and I am so very grateful for their courage and strength.  They are truly an inspiration to my entire family.
A Brief History of My Father's Family, The Biegels
My father Oscar Herman Biegel is also a descendant of Montana pioneers, as the Biegels left Indiana in the late 1800's after owning a butcher shop, and settled south of Harlowton, Montana after acquiring land stemming from the Homestead Act.  As all the homesteaders did at this time, they envisioned raising watermelons the size of houses.  Of course they found out very quickly this was not going to be the case. The Biegel Family ranched and farmed, and fought hard to make a go of it for many years. However during the Dust Bowl Era they lost everything.  All that remains of their years of struggle is the original stone foundation where their homestead once stood on the wind-swept prairie south of Harlowton.
The sons of these early Harlowton area pioneers, my grandfather Oscar Sr. Biegel and his brother Art Biegel, then had to quickly reinvent themselves because they had families to care for.  They decided to open a bar in Harlowton called "Biegels Bar", which proved to be a success. My grandfather Oscar Sr. and my grandmother Marie (whose family also were early settlers in the Harlowton Area), had two children, Donna Mae and Oscar Jr. They lost their daughter Donna Mae at the age of 5 due to scarlet fever.
Oscar Jr. went on to be a high school football star, and then turned down a full ride football scholarship to Notre Dame to instead enlist and fight in the Korean War.  Upon his return to Harlowton following the war, he married his high school sweetheart, my mother Doris Jeanne Thibadeau, and became the first of the Biegel Family to ever go to college.  He graduated with honors as a pharmacist from the University of Montana and owned a successful pharmacy in Harlowton for over forty years.  He was also the mayor of Harlowton for nearly 20 years. My mother and father had five children, all of them graduating from college, with two Doctors of Optometry degrees (myself and my brother), two masters degrees in education and an engineering degree (my three older sisters).  Every one of my siblings' children (my nephews and nieces) also graduated from college and are enjoying wonderful careers.
My father Oscar died in 1998 at the age of 70 after a long and brave fight with colon cancer, and my mother Doris Jeanne eventually succumbed to post-polio syndrome in 2007 at the age of 80.  They are buried beside each other in the Harlowton Cemetery, after living a wonderful and fulfilling life together.
My Parents Oscar and Doris Jeanne Thibadeau Biegel
My parents, Doris Jeanne Thibadeau Biegel and Oscar Herman Biegel.
My Thoughts...
As I look back on the lives of my ancestors, it's obvious that there was no shortage of hardships.  But what I find so inspiring is the fact that no matter what adversities they were faced with, they never lost hope. They held on tight and continued to "fight the fight" for a better life, which on many occasion took an incredible amount of bravery, courage and strength... far more than I could ever imagine.  I have great admiration and respect for my pioneer ancestors, as well as an immeasurable amount of gratitude for their unwillingness to ever lose hope.
As I sat down and wrote this story of my family, it became my hope that my ancestors somehow know as they look down upon us, that their struggles were not in vain...
2018 Thibadeau-Biegel Family Photo
This photo was taken at the wedding of one of my nephews in 2018 on the Hawaiian Island of Oahu. My wife Shannon, myself and all of my siblings are present, as well as their families... including my three great nephews and great niece who are 8th generation Montanans. The Daltons would be very pleased indeed.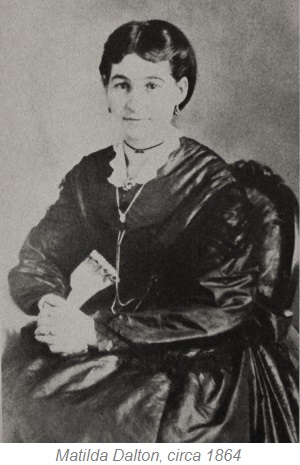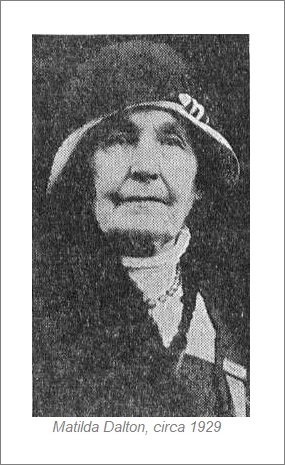 The gravesite of William and Clara Dalton on Boot Hill in Virginia City, Montana.

Visitors learning about William and Clara Dalton while on the Virginia City Fire Engine Tour.
Present Day Virginia City, Montana.